How to Improve Coordination in a Business Organization with CRM?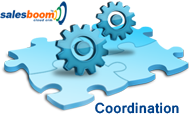 How to Improve Coordination in a Business Organization is a common question asked by organizations small and large. In order for business organizations to improve coordination they must have strong processes in place combined with the proper business management software. The software tool best suited to improving coordination in a business organization by streamlining workflow processes and improving collaboration in Web Based CRM Software. Salesboom.com has a full suite of CRM & Business Organization Software solutions designed to increase the productivity of your organization with coordination tools like shared calendars, instant messaging, web self service portals, shared reporting and shared tasks. These tools combined with our other powerful features like marketing automation and sales force automation will provide your business with all the answers to the question, How to improve coordination in a business organization.

A lack of coordination in an organization can decrease productivity, complicate processes and delay the completion of tasks. In order to coordinate the efforts of an entire organization, the organization requires a systematic integration of a process that creates accountability within the organization. Implementing this type of process allows inter-departmental coordination throughout the organization between employees. Recognizing early signs and symptoms of not having coordination in an organization can help it prevent further damage and accelerates coordination enforcement. Below you will read common signs of the lack of coordination in your organization:
Duplication

A usual sign of a lack of coordination within an organization is redundancy. With redundancy, an organization will spend double the efforts, materials and time to produce the same item twice. Redundancy typically results from a lack of coordination between various departments within the organization. By implementing control measures to reduce redundancies, an organization can work toward improving overall coordination within the organization and thus would decrease the consumed money, work and effort.

Inflexibility

When an organization does not support coordinated efforts, innovation and progress can become stagnant within it. This can make the organization obsolete and unable to compete against other organizations in the same industry that have adopted a coordinated effort to adapting new methods of producing and managing the organization. Inflexibility also freezes many protocols that could have potentially become productive. This happens because there is not enough coordination to gauge the effectiveness of the new protocol.

Lost Data

Organizations must effectively utilize information to function at an optimal level. When this information is not readily available as needed within the organization, the lack of information can create a cascading effect that will damage the organization. Lack of coordination creates gaps in the acquisition and distribution of information. This in turn makes the organization's available resources ineffective and causes it to miss opportunities. By implementing an accountability system for the information, the organization can improve coordination and minimize lost information as needed important information will be available by the time it is needed.

Delay

One of the signs that an organization lacks coordination is delay. When there is a lack of coordination between management, labor, production, marketing and sales, delays will result causing the organization to become highly ineffective. When delays become part of the operations of the organization, customer relations will suffer for the organization. Delays create unreliability and will drive the customers away from the organization. By controlling and properly managing work in progress, the organization can work to prevent delays and resulting coordination problems which will lead to the elimination of delays and increasing the overall satisfaction of the customers and believing in the reliability of the company and its products.
Salesboom.com CRM and Business Organization Software Tools to enhance business processes Include:
Shared Calendar: When asking how to improve Coordination in a Business Organization Salesboom.com begins this answer with our Shared Calendar solutions. Built directly into our Web Based CRM Software, our Shared Calendar allows you to instantly share your events with other team members, other staff members and even other office locations. This coordination feature is a great tool for announcing time off or scheduling meetings with the ability to invite other users in real time to your events. Using our Shared Calendar is a sure fire way to improve coordination in a business organization.
Instant Messaging: A key aspect to achieving improved coordination in a business organization is the ability to efficiently communicate with other staff, team members or even your entire organization with the single click of a button. Instead of installing public messaging services which act as more of a distraction then coordination tool, Salesboom.com's Web Based CRM for business organizations comes with a built in instant messaging tool great for interdepartmental coordination. A business organization must ensure that all documentation and transcripts remain secure, this is why our built in messaging tool is ideal, no information ever goes outside of your secure platform and a searchable archive is stored within your organizations database. It is easy to stay in touch with your key team members no matter their location with Salesboom.com and Improve Coordination in your Business Organization.
Web Self Service: When looking to Improve Coordination in a Business Organization you must not only look within your organization, businesses can run into many customer support problems because of lack of coordination. Salesboom.com helps you improve customer relations with our Web Self Service Portal which allows customers to create and view their support ticket via the internet 24 hours a day 7 days a week. This will ease the work load placed upon your customer support department and aid in improving coordination by providing employees with a single place to manage support tickets. With Salesboom.com you also have the ability to link related cases using our knowledge base creating faster case response time and increased coordination.
Shared Documents, Reports and Tasks: Another aspect when improving coordination in a business organization involves the ability to share documents, reports and tasks. Instead of relying upon emails and other forms of documents sharing, Salesboom.com allows entire teams to fully coordinate and share organization documentation and reports within a single secure platform. As teams work towards their goals it is also possible to share tasks with the ability to assign particular tasks to individual team members or groups while coordinating with employees schedules. All within Salesboom.com you can manage conflicts and coordination in a business organization with a view of team member's upcoming events or vacation which will ensure no task is assigned to this individual during the period they are absent.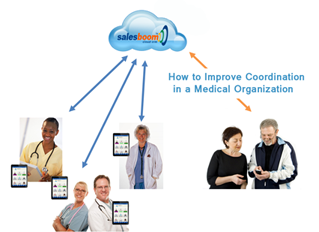 When searching how to avoid failure and improve coordination in a business organization it is crucial to have the technology required to avoid the reasons for lack of coordination in business allowing you to increase productivity across your entire organization. For a better look at how Salesboom.com CRM tools to enhance business processes can improve coordination in your business organization take our Free 30 CRM Software Trial.
Once you truly gain full visibility into your company's sales pipeline, you'll never want to go back to the dark again. We guarantee it. Take a Free Cloud CRM Software 30-day Trial today, or contact us directly for more information: 1.855.229.2043 (1.855.229.2043) or via e-mail at sales@salesboom.com.
| | |
| --- | --- |
| | Signup for The Salesboom CRM Newsletter: |
| | |
Cloud Sales Software Products