Cloud CRM Email Marketing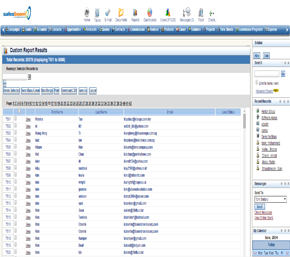 Cloud CRM Email Marketing is one of the strongest advantages your company will have over its competition. The ability to send tailored, direct-marketing emails on a mass scale will set you apart from your competitors. The time and resources you save from being able to send mass emails from a service and support respective to billing and collecting will free you up to spend more attention on your marketing.
Salesboom CRM Email Marketing included as part of each Cloud Based CRM Software edition. E-mail Campaign Management and e-mail Automation features allow Marketing, Sales, Support & HR to create and manage personalized e-mail campaigns using high impact e-mail templates.

If you have email marketing right, it will be one of the most powerful marketing tools to your business. If you are not communicating with your clients nowadays by email, you are missing out on potential sales. Well, Salesboom is here to help you to overcome this issue.

Salesboom CRM Email marketing feature will enable you to keep in touch with your clients by sending regular emails to keep them updated with all your news and your new features. Online marketing and CRM Software is your secret weapon to getting and retaining more clients. Sending marketing mass emails will save a massive amount of your staff's wasted time when they sending mails one by one, which also save that effort of doing this boring task. We offers a Combination between CRM technique and Email Marketing to reach out to your leads, prospects and clients. Take better sales and marketing decisions based on responses to your Email campaigns.

"How To Mass Email in Salesboom CRM?"
Sales & Marketing
Creating captivating HTML e-mail marketing campaigns is a breeze with Salesboom e-mail marketing software. Keep track of individual e-mail campaigns, what leads were generated, and what sales were closed as a result. Compare current e-mail marketing campaigns to historical performance to plan future campaigns. Also, will enable you to target specific niche of clients in order to send a custom mails to them, with salesboom you will be able to manage your marketing campaign easily.
Customer Service & Support
Constantly being in contact with your customers via e-mail is one of the most efficient and proactive support a company can give its customers. By keeping customers informed of their options for logging cases and creating trouble tickets and of the latest support initiatives your company has launched you ensure increased customer satisfaction.
Billing & Collections
Dramatically simplify billing and collections by mass e-mailing overdue account reminders. From the overdue accounts, create HTML templates that are personalized to each recipient. Salesboom mass e-mail is very time saving when resending notifications to overdue accounts.
Business Benefits of Salesboom hosted Mass E-mail Marketing Automation
Improve effectiveness and productivity of e-mail communications.
Increase service levels.
Optimize your marketing spend by identifying successful email campaigns.
Ensure your company's branding and message is maintained across all customer communications.
Starting from any Salesboom Marketing Campaign, send a personalized e-mail to all leads from that campaign with a few short click
When viewing any Lead in the Salesboom CRM, see all E-mails sent to that Lead or sent from that Lead.
Send an e-mail to all Contacts associated with a Sales Account.
Eventually, If you want to retain your clients you should focus on building a relationship with them. Automate your email marketing follow-ups with Autoresponders. With salesboom you will be able to create your own HTML email template to keep in touch with your clients and you will be able to manage drip marketing campaigns (schedual automatic mailings) for your leads and contacts.
Try Salesboom's CRM Software Now Free of Charge for 30-Days, with no strings attached. Take the reigns in internet marketing today and blow your competition away by taking advantage of Salesboom's mass email marketing software. Empower your small business by joining the Small business CRM Revolution with Salesboom.com.
Salesboom.com - All the Small business CRM Tools You Need to Succeed; Without the Price Tag.
Learn more about CRM Email Marketing Campaign Software Solutions
Once you truly gain full visibility into your company's business processes, you'll never want to go back to the dark again. We guarantee it. Take a Free CRM Software 30-day Trial today, or contact us directly for more information: 1.855.229.2043 (1.855.229.2043) or via e-mail at sales@salesboom.com.
| | |
| --- | --- |
| | Signup for The Salesboom CRM Newsletter: |
| | |
Cloud Sales Software Products