CRM Mass Emailing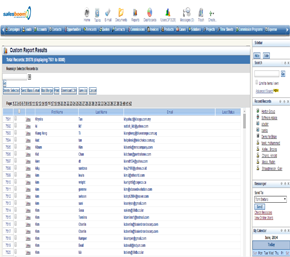 Salesboom.com robust CRM software comes with a Mass Email Feature that allows companies to send personalized Mass Emails to Leads, Contacts, Employees and Partners. The CRM system comes equipped with standard Email Templates that can be used to conduct Email Marketing Campaigns in the CRM. They can be used to send mass emails to customers about new products. CRM users can also create and save their own Email HTML Templates to be used in Newsletters, sales emails and even customer support.

To send a Mass Email in Salesboom.com CRM, you can simply create a report of Leads, Contacts, Employees, or Users, and then choose the email template desired. The selected data fields are then mail merged into the template. The last step is clicking on the Send Mass Email Button, and off you go. Once you send your Mass Email to the desired Report, a Mass Email History Report is generated so you can find out what emails have bounced, the bounce rate, who opened and read the email sent, etc.
CRM Mass Email Limitations:
Out of the box, Salesboom.com CRM Mass Emailing Functionality comes with a limit of up to 1000 emails per user per day. Unlike other CRM software vendors such as Salesforce.com we do increase this daily mass email limit on request.
Cloud Sales Software Products