Salesboom offers fully robust marketing automation and campaign management tools for your marketing department. Click here to learn all the ins and outs of using the Campaigns Tool as a Marketing Professional!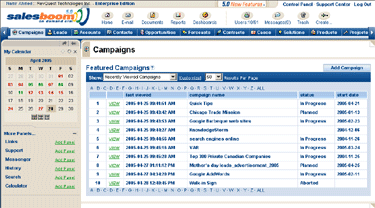 A campaign is a marketing project intended to draw new customers to your business.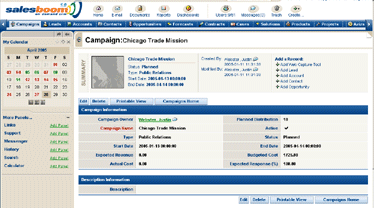 A campaign allows you to track the effectiveness of your marketing campaigns. Keep track of your marketing campaign's budgeted cost, actual cost, number of leads generated, number of customers gained, total revenue generated etc. You will be able to know which campaigns worked and which ones didn't, thus enabling you to get the most out of your marketing efforts.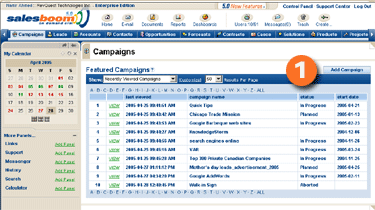 Select add campaign located at the top of the page. Selecting this option will bring you to the New Campaign page. Fill in your account information using the Campaign Information and Description Information sections of the form. Fields highlighted in red and marked with an asterisk are required fields. All other fields may be left blank if you wish. Save your account by clicking the Save or Save & New button.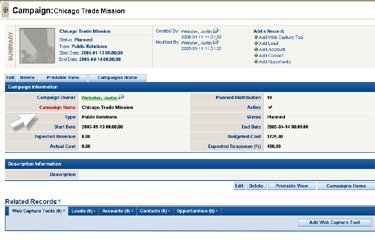 Campaigns are executed outside of salesboom.com Campaign results will have to be entered manually, with the exception of online campaigns such as through email and the web. You can use links along with the Campaign Web Capture Tool when conducting email and web campaigns. Here are some online examples:
Email & Web:
Set up a Campaign Web Capture Tool. Provide a link to the web capture tool page in the marketing emails you send or as part of your web advertisement. A new lead will be captured when the user submits the web capture form you created. The campaign keeps track of the number of leads captured using the web capture tool.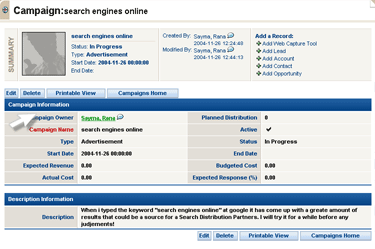 Reposes that are received via phone or email have to be entered manually as a new lead. To manually enter a response, click the Add Lead to Campaign button located in the leads section of your campaign's detail page.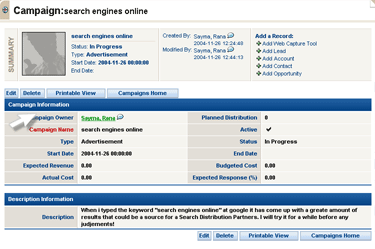 Use the Campaign Web Capture Tool to create an HTML form to be filled out by people who respond to your marketing campaign. Refer people to your web site by providing a link in an email or ad. Be sure the link points potential customers to necessary information about your company or product as well as the campaign web capture form. Remember, a user is more likely to fill out the form if it does not ask for too much information.