Salesboom Sales Force Automation features are second to none. From Lead Management, to Accounts and Web based Contact Management , through to Opportunity Management and beyond, we have what it takes to automate your entire Sales department.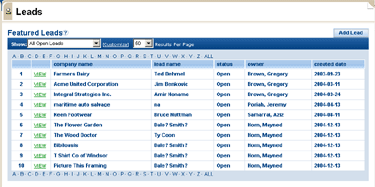 What is a Lead?
A lead is a prospective customer or sales opportunity. You can track leads that resulted from visiting your web site, viewing an advertisement or attending a trade show. All of this data helps you to measure the effectiveness of your marketing strategy.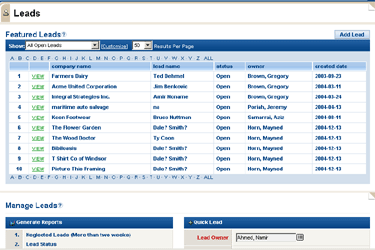 There are two ways that you can add a new lead.
From the Leads tab page, use Quick Addition if you want to quickly add a new lead without entering a lot of information. Further details can be filled in at a later time. Click the New Leads link to use Detailed Addition if you want to add a new lead with a detailed profile.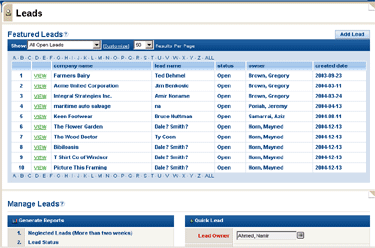 Go to the Leads tab page to view your current leads.
Use the My Unread Leads view to see a list of your leads that you have not yet looked at. Or use the All Open Leads view to see all your currently open leads. All open leads are still potential customers. Use the Lead Source field to quickly record where each lead came from, e.g., an advertisement, a trade show, your web site etc.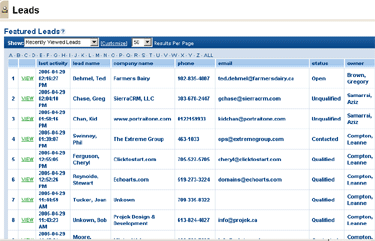 Go to the Leads tab page to view your current leads.
Use the View or Key Leads section to display the lead you are interested in converting. Once displayed, click the lead name to view the details for the lead. Click Convert button. You will now be prompted to confirm that you want to convert the lead. Click OK to perform the conversion. An account will be created using information obtained from the lead. A contact will also be created and then linked to the new account.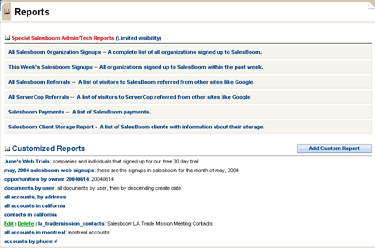 Easily create reports to help you manage your leads.
Use the standard reports in the Generate Reports section of the Leads tab page. For more reports see the Lead Reports section on the Reports tab page. The Neglected Leads report helps you to see which leads require immediate attention. The Leads By Source report helps you to determine the effectiveness of your lead sources. You can also create custom reports to help you view the lead information that is most important to your business growth.
An account is a company or organization that is involved in some way with your company. They could be a customer, partner, investor etc.
Creating Accounts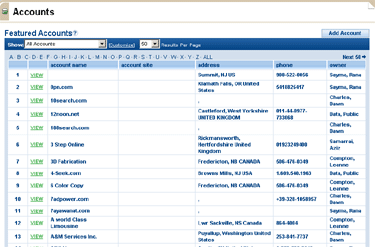 There are two ways that you can create a new client account:
Click the New Accounts link to create a new account with a detailed profile. Use the Parent Account field to link a company to it's parent company. In this way you can keep track companies and their subsidiaries. Add contacts to the account to keep track of people you know within the company. Add opportunities to the account to keep track of pending business from each account.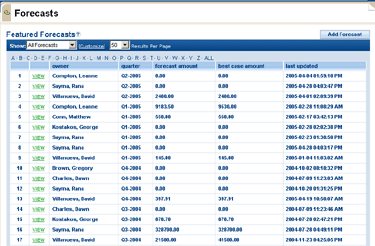 Click the New Forecasts link located in the list of Add options toward the top of the page. Choose the quarter for which to create the forecast. Click Create. Click the Edit button to begin working on the forecast. Categorize your opportunities to best fit your expectations. Enter your quota for each month. Click the Recalculate button to generate an accurate revenue forecast for the specified quarter.