CRM Software For Travel Agencies | Travel CRM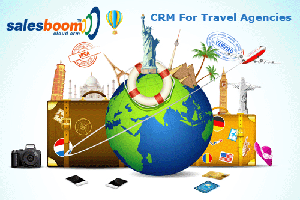 The CRM and ERP For Travel Agencies and companies caters to tourism activities, whether for the sake of business or recreation, that take people out of their home environments to other destinations. The Travel Industry provides services that enable and enhance the travel experiences in the form of hospitality and transportation services, facilitation on customs and border issues, insurance, marketing, public health, transport and event options.

Travelers make their way via air, rail, road, water and now, unbelievably, space. They seek activities that satisfy curiosity, culture, adventure, family bonding and boredom. The value relationships in this sector are in travel, trade, media and advertising, attractions, festivals and events.
Many countries, states, provinces, or districts depend on tourist travel to feed their local economies and so the Travel Industry is a significant sector for revenue generation. There are many opportunities for partnering with other service providers to enhance and up-sell activities and services for Travelers. Only a true Online Travel CRM software can accomodate these activities. Enterprise Resourse Planning ERP software for travel agency is free to test.
In order to ensure the success of travel sector services it is necessary to identify customers with the following characteristics:
access to discretionary income and access to free time. Additionally it is important to have access to destinations and activities with acceptable infrastructures in the form of good accommodations, facilities, and transportation systems. Web based CRM Software for travel agents and travel industry.
Salesboom Cloud Travel Agency CRM software for travel agents delivers integrated and synchronized performance across all travel network channels from call center, administration, sales and marketing, pricing, distribution and dealer networks, financial administration and to name a few.
Travel Agency CRM management Software Components:
BUSINESS
CRM CAPACITY - TRAVEL INDUSTRY
Data Management

High volume booking engine to

Manage flight information
Manage reservations

Offer flexible, scalable and user-friendly systems and services
Integrated with databases, call centers and fulfillment systems (i.e. Partners)
Share updates instantly with partners and customers
Manage customer information to offer competitive custom travel options

Customer Management Solutions:

Increase Up-sell and Cross-sell opportunities
Refined targeting of highly personalized content
Compensate for the traveler's price sensitivity with added value from improved and varied services
Handling the consumer traveler, the business traveler and their employer company, in distinct, personalized ways
Analytics tools
Identify high value customers

Finance and Revenue Management

Web-based Sales and Care such as eTicketing Services (issue and deliver client ticket electronically)
E-Billing options for Processing, Billing, Account Inquiries
Manage employee incentive/commission programs

Technical Operations Solutions

Integrating the front-office system with different booking systems
Integrate and manage the supply chain

Operations Solutions

Efficient contact management, so agents can capture and handle hundreds of inquiries per day
Sophisticated, multi-channel Campaign Management specially geared to the Travel Industry
Effective Offer Management pushed real time to consumers and partners online and through Call Center, and Partner Sites
Customize and Partner on Loyalty Programs
Create sales opportunities across the board with access and management of

direct sales
independent travel agents
company-owned travel agents
franchisees
multiple customer channels

Integrate into reservation systems to capture travel data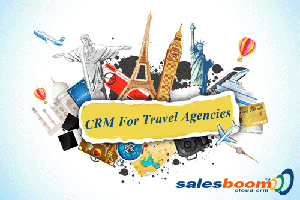 To address your specific needs, Salesboom Cloud Travel CRM system offers Travel agents and sector users integration of Operational, Analytical, and Collaborative information sources. It is very important to understande the role of CRM in the Travel and Tourism industry. Get a Travel Agency CRM Demo and Free Trial.




With our Travel Agency CRM Management Software, scale the degree of integration according to your business plan, but undertake to deliver solid customer support with training and professional services as needed for improvements in the following areas:
Automation of basic business processes (marketing, sales, service)
Analysis tools to identify and service high value customers,
Customer collaborations on multiple channels and with integrated partner servicing
Ensure collaboration between organizational team members for excellent customer service
Front and back end integration options (supply chain)
Utilize workflow and assignment processes to ensure consistent customer care and delivery of business services
A web based CRM system for travel agency management and web based CRM software system for travel agents Can Improve Customer Insights
Because every business is different, travel agency software reviews are seldom helpful. Some businesses base their travel agency software reviews on merely hair say instead of testing for themselves the travel agency software. We encourage all business people searching for a travel agency management software to contact Salesboom for a custom demo for your own business.
The way your customer sees your ability to serve them will impact your ability to win them over and to keep them doing business with you. A CRM system for travel agents will help you better manage your relationship with customers so that they see you as competent and worthy of their business. When travel agents choose a CRM system for travel agency, they should keep in mind the following: choose a tool that saves your time, helps you be proactive, and helps you demonstrate solid organizational skills.
Optimize Your Time Better
A web based Travel CRM software system for travel companies and agents offers the ability to better manage your time. Task lists, an overview of everything on your to-do list, and alerts built into this sort of tool can help you start each day off with an actionable, ready to be performed plan. A Travel CRM system for travel agents offers a digital automatic way to track your time, helping you with billing, forecasting, and valuable reporting tools. It helps you when you're in your office, out in the field or working from home by giving you a centralized place to track and organize important information you need to do your tasks.
Customers' benefits when you use a travel CRM system
When travel agents are looking for a Travel Agency CRM system, benefiting their customers should be a top priority and a Travel CRM helps you do this in several ways. A business that tracks their ability to serve their customers with automated tools that allow them to follow up will end up with having happier, more satisfied customers, more repeat business, and more referrals and leads. Relationship management is a vital element of a successful business and the right tools can make this easier.
Advantages of Salesboom Online Travel CRM over othe competitors (Salesforce.com, Microsoft Dynamics, Netsuite, Zoho, etc)
Optimized business processes in the marketing, sales and customer service departments.

Lower process costs in customer relationship management.

Faster, web-based access to all business partner data.

Higher customer loyalty thanks to better understanding the customers' needs.

Access all customer-relevant data in a single database.

Work completely web-based using a safe secured Internet connection.

Define any number of properties as search and filter criteria.

Operate in logically coordinated procedures.

Run an extensive campaign management with three levels of expertise.

Provide your sales and controlling departments with consolidated statistics and reports on customers and bookings data.

Adhere to a strict approach to data visibility.

Maintain customer history using automated processes

Automatically improve customer data depending on their booking behavior.

Integrate your CRM with IT environments to exchange data with other systems in your company or others.
Continuous Improvement
Salesboom Cloud Travel Agency CRM software offers a highly scalable solution for companies in the Travel Industry who undertake continuous improvement strategies. Identify and schedule process changes without downtime or user overload. Salesboom Cloud CRM software affords an opportunity to step away from the constraints of fixed solutions. Salesboom Cloud CRM offers support for rapid configuration of the system, integrating existing systems and processes as needed, read more about, How to Achieve Cloud CRM in Tourism.
With CRM for Travel business consider the opportunities for improvement in the following:
Understand how customers define quality, and design corresponding service strategy
Automate the management and scheduling of sales calls
Keep track of all types of customer contact from all channels for analysis and campaign design
Deliver online billing options and up-to-date rate plan services
Offer multiple self service options
Maintain information on services, booking information and assistance 24/7
Recognize and address potential problems quickly
Offer user-friendly mechanisms to register customer complaints to address service deficiencies
Regulatory Compliance
Salesboom Cloud CRM software can integrate protocols for members of the Travel Industry to meet evolving protocols from a variety of regulatory agencies. These may include Insurance, Occupational Safety and Health Administration (OSHA) and advisory services so costly mistakes can be avoided.
Professional Services - Cloud CRM Custom Solutions
Salesboom delivers solutions that address the fast moving, demanding needs of the Travel Industry. We offer evolved, solid, custom software solutions based on an understanding of the unique needs of individual organizations. We offer a range of services to support any level of Enterprise Resource Planning (ERP) and we offer support and training services as part of implementation.
We offer the following professional services:
Project Management – requirements, placement and delivery of Travel Industry Solutions
Business Modeling Services - identify and automate business processes
Integration Services - CRM Software and/or process customization
Professional Analysis - Cleanse and Import Data, streamline systems
Professional Training Services and Support Services
The Salesboom Cloud Platform:
Web Services with Service Oriented Architecture (SOA)
Optional Customization - Capacity for user or professional customization and is fully extensible
Development and Integration - Web Services API and AJAX / COMET controls are system standards.
Cost control - costs are contained because the platform is proven both flexible and stable
Partner Networks - An extensive partner network of over 125 different solutions providers
Legacy - Salesboom Cloud CRM has an API that facilitates integration for web based CRM/ERP solutions with existing front and back office systems
Remember, Salesboom Online Travel CRM software for travel agencies works on maintaining and improving upon clients' perception of the agency. Nowadays sales atmosphere involves severe competition, and clients choose travel agency based on the quality of service they offer, especially in the travel sector. Doubtless, modern technology has changed the way customers view travel agencies, and the ways in which they feel about booking a trip, raising customers' satisfaction. Too many options mean most clients will keep returning to the same agency if they offer a good quality service. Implementing good CRM travel software solution enables travel agents to keep existing clients and gain new ones based on those relationships.
Salesboom.com is a leader in providing intelligent business solutions for travel businesses for over a decade of experience. With Salesboom Cloud based CRM Solution Keeping track of your customers has never been easier! All of the critical information about your customers, their needs, your talks with them, and what you're doing for them is all in one repository. Also, in Salesboom entering and updating relevant data is fast and easy process with just a few clicks.
All of your customers' information is safe and secure on our encrypted server, and you are the only one that has access to it. We know that some travel agencies have been burned in the past from other services, but we value your business as a travel agency.
Once you truly gain full visibility into your company's business processes, you'll never want to go back to the dark again. We guarantee it. Take a Free CRM Software 30-day Trial today, or contact us directly for more information: 1.855.229.2043 (1.855.229.2043) or via e-mail at sales@salesboom.com.
| | |
| --- | --- |
| | Signup for The Salesboom CRM Newsletter: |
| | |
Cloud Sales Software Products