CRM solution for clinical practice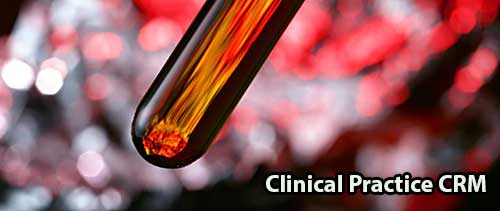 A Cloud CRM clinical practice software is a proven success model. With Salesboom on-demand CRM software, there is the added benefit of both front end and back end integration for efficient end-to-end management software for order and supply activities in a clinical practice.

Salesboom CRM Software offers functionality that can accommodate product/patient/supplier information and capacity to track patient information requests and documentation. This solution is suitable for physician, dental, chiropractor, research, optometry and veterinary clinics to name a few. Salesboom CRM software delivers integrated, real time information to all team members.
Stable CRM solutions can streamline and help clarify the complex interaction between doctors, patients, treatment options. The ancillary activities of billing, payment, meeting regulation and ISO standards commands a strong attention to detail and ability to respond quickly to information and product requests. Whether you are a pharmaceutical company, physician in clinical practice or a pharmacy, Salesboom CRM Custom Solutions can facilitate access to timely information, quick turnaround and strong customer support.
CRM systems for clinical practices facilitates automation of bookings, patient communication and customer relationship management. Salesboom CRM Software promotes a policy of continuous improvement, and promises improved relationships between all stakeholders in the process.
Secure CRM Information Exchanges
Protecting patient information is priority in any clinical practice, and Salesboom CRM can assure tight access control to patient files and information through implementation of security protocols. The protocols are based on set rules for access to information, and are modified only at the highest level in your organization.
The access to patient information is based on a need to know. Salesboom provides an audit option available in real time to ascertain what access and or changes have occurred to any information item in the system, any time, over time. With access control, you secure the information exchange and with audit functionality you can review the information item any time to determine changes, access patterns and demonstrate adherence to information and regulatory protocols in your clinical practice.
Continuous Improvement
Salesboom CRM Software solution is scalable, and therefore can harmonize system and business process activities as improvements are identified and changes implemented in your clinical practice. In acquiring flexible CRM solutions, it is possible to pursue a policy of continuous improvement without an application constraint. Salesboom CRM offers rapid configuration, to support existing and efficient sales processes and ability to meet the demands of a highly mobile workforce.
Regulatory Compliance
Salesboom CRM solutions integrate identified business processes and quality standards among other manufacturing practices for the chemical sector. Salesboom CRM software aids in enforcing guidelines and can identify achievements and problems in process or performance for correction. Salesboom introduces integration functionality for management, capture and tracking of quality information across all functions, including production and supply chain management.
At the same time, CRM solutions elevate recall protections and risk management in chemical sector activities as part of a quality management approach by offering comprehensive informations of the manufacturing environment on an on-demand basis.
Continuous Improvement
Salesboom CRM Software solution is scalable, and therefore can harmonize system and business process activities as improvements are identified and changes implemented. In acquiring flexible CRM solutions, it is possible to pursue a policy of continuous improvement without an application constraint. Salesboom CRM offers rapid configuration, to support existing and efficient sales processes and ability to meet the demands of a highly mobile workforce which is recently more common in the chemical sector.
Regulatory Compliance
It is possible to integrate rules based triggers that will flag any member(s) of the team to indicate a required action to meet and maintain compliance in clinical practice. There are a number of ways to accomplish this depending on the business rules in place within the clinical practice.
Salesboom CRM implementation guarantees cost containment through streamline production and distribution operations using front and back end tools as part of standard software offerings. Guaranteed visibility across all areas from finance to manufacturing and across the supply chain are possible within exceedingly generous timeframes.
Professional Services - CRM Custom Solutions
Salesboom offers software and Professional Services that address specific requirements for the chemical sector and delivers on-demand solutions that automate clinic processes on time and within budget while factoring in regulatory and supply constraints.
Salesboom has evolved solid custom software solutions based on a stable, scalable software solution. Salesboom guarantees successful deployment based on support and flexibility of our stand-alone and custom integrated CRM Solutions for Enterprise Resource Planning (ERP). Included is support and training services offered as part of our implementation.
Salesboom CRM will deploy a solution that enhances services and processes so you can achieve positive ROI in as short a time as possible:
Software Solution - develop CRM plan, strategic placement and requirements development
Identify and automate business processes
CRM Software and/or process customization
Integration of CRM Software (with existing software)
Cleanse and Import Data
Reporting on implementation and deployment
Professional Training Services and Support Services available as needed
The Salesboom Platform:
Web Services with Service Oriented Architecture (SOA)
Optional Customization - Capacity for user or professional customization and is fully extensible
Development and Integration - Web Services API and AJAX / COMET controls are system standards.
Cost control - costs are contained because the platform is proven both flexible and stable
Partner Networks - An extensive partner network of over 125 different solutions providers
Legacy - Salesboom has an API that facilitates integration for web based CRM/ERP solutions with existing front and back office systems.
Professional Services
Salesboom offers professional services in support of the CRM implementation life-cycle and beyond. You might consider:
Business Modeling Services
Project Management (PM) Services
Professional Data and System Analysis
Custom Integration Services
Support and Training Services
Why is this essential? It springs from the everlasting truth that the more you know your patients, the better you can respond to their current needs and predict what their future needs might be as well. The Health Care sector is now opting for Cloud Customer Relationship Management (CRM) in its daily application.
Cloud CRM Health Care solutions consist of a wide array of software products that help healthcare organizations to maintain excellent relationships with their clients. It enables the health care industry to get essential customer information and use it as efficiently as possible. Salesboom.com Clinical Practice CRM thus enables the health care sector to improve patient health, increase patient loyalty to the hospital or the medical clinic, patient retention and add new services as well. The CRM Health Care Services include strategic planning, communication services, consulting services, CRM for physicians, Campaign management, Database construction, predictive segmentation, and communications strategies.
In addition to providing quality care, healthcare organizations continue to search for ways to increase patient satisfaction and assist patients in proactively managing their overall health. This is one reason why healthcare organizations are looking at how to leverage cloud customer relationship management (CRM) applications to help their patients to better plan and manage their healthcare interactions, costs, and benefits. Not only do patients want more visibility into their healthcare, but providers need better integration of their systems for administrative and patient interaction to coordinate patient care, services, and delivery. Salesboom.com Clinical Practice CRM gives the promise of complete and utter satisfaction for both of the patients and medical workers.
Healthcare marketing is consumer marketing
Patient acquisition: How do I get more patients coming to my facilities?

Patient retention: How do I get my patients continuing to use my facilities?

Patient "win back": How do I bring back patients who haven't using my facilities for some period of time?
CRM Benefits for HealthCare
Centralized management of all points of sale of supplemental insurance.

Management of potential clients including properties from different systems, client conservation and more.

Telephone campaign for potential customers

Smart Calls by script, call policy and dialing attempts

Coordinating meeting for field representatives by region, language and other characteristics

Management teams and sales centers - Measuring effectiveness, goals, etc.
Healthcare Marketing is changing
Hospitals are very competitive.

Hospitals are moving from mass advertising to target direct marketing.

Different offers, creative and techniques are used in direct mail to attract prospects to the facility.

Hospitals are developing "customer outreach" databases and are using traditional direct marketing techniques.
Once you truly gain full visibility into your company's business processes, you'll never want to go back to the dark again. We guarantee it. Take a Free CRM Software 30-day Trial today, or contact us directly for more information: 1.855.229.2043 (1.855.229.2043) or via e-mail at sales@salesboom.com.
| | |
| --- | --- |
| | Signup for The Salesboom CRM Newsletter: |
| | |
Cloud Sales Software Products