CRM Account Management Software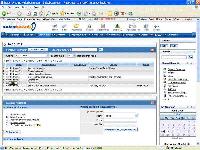 Give the personal attention your customers desire and deserve with our Account Management Software. Ideal for when multiple employees work under the same account, track in real-time every interaction, note, and desired detail as it happens. See how Salesboom will blast your account-based sales and marketing campaigns off with our award-winning Online CRM software.
Cloud-Based CRM Account Management Software by Salesboom provides Sales, Support, or any Account executive access to real time Account data, 24/7/365. Salesboom CRM Account Management Process are part of the Salesboom hosted Cloud CRM System Tools, and provided to our customers over the Internet. There is no software to download or infrastructure to purchase. Simply sign up for a Free Cloud CRM System solution 30-day trial and begin evaluating Salesboom's software today.

What is Account Management In Salesboom CRM Solution?
An account represents a company or organization that has several employees working in it. Each one of them communicates as an contact of the same company but from a different hierarchy.

Account Management best practices is the automated process of managing the communications with companies that have many several different contacts such as: Sales leader, marketing manager and CEO . Which makes it possible to cater your clients needs. By listing contacts to their accounts, the communication will be directed to the appropriate person. This will save time that may be lost in communicating with the wrong contact.

Salesboom Account Management software is tightly integrated with the Salesbom hosted Cloud CRM System Software and is an integral part of Sales Force Automation(SFA), Accounting and Customer Service & Support business processes automated by Salesboom for your business. With customizable Account capabilities, Salesboom gives your business or team the ability to easily specify what type of information you would like to track about your Accounts, and implement specific business processes that you would like Salesboom to automate for your business.
Sales Account Management Software Online Tutorial
Why you Need Salesboom CRM For Account Management Software?
Sales people need to have an access to all your account data they need to engage clients effectively in order to cater their needs to maintain a strong relationship with them. With our account management software, sales reps have a complete picture of each account, with automatically updated opportunity details, access to all customer data including contacts, communication history, activity history and much more.
While sales reps work to close deals, it is needful to maintain individual accounts and keep track of contacts under them. The most effective organization in interacting with contacts, the one that represents account for a particular company with a single click.
If the interaction as a whole not strong enough would cause potential deals to fall through the cracks.
An account represents an enterprise or organization that has many employees working in it. These employees could all serve as contacts at different hierarchies.
CRM Account management system solution helps maintain long lasting relationships and makes the process of sales with multiple contacts easy and efficient.
CRM and Account management software manages the communications with businesses that have many contacts and departments. This makes it possible to cater to the needs of specific department inside a business. After categorizing contacts to accounts, communication is routed to the appropriate employee in charge. Our CRM with account management tools saves time and effort that may be lost in communicating with the wrong contacts.
Salesboom CRM for Account Management presents a simple and user friendly interface to manage accounts. This helps in visualizing new opportunities and deals that may be hard to identify. Now it is easy to focus on businesses specifically and evaluates their position with regards to closing deals.
Business Benefits of Salesboom CRM and Account Management Solutions:
Salesboom On Demand Cloud CRM System Solution is completely web-based and hosted by Salesboom; available 24/7/365 over the Internet.
Customizable Account Fields so you can track what Account information is important to you.
Automate Account Management for your business with customizable Workflow, including Real-time Alerts, creation or edit notification, automated account routing, big Deal Alerts and more.
Customizable Views, Reports and Dashboards lets you learn anything about your company's Accounts.
Self-service Account creation from your Web Site with Salesboom Account Web Capture Tool.
Organize your Accounts as you see fit for easy, intuitive Account organization that works.
Mass E-mail tools for E-mail Marketing Campaigns, etc.
Import Accounts from other systems or lists with Salesboom Account Import. Export Accounts from Standard and Custom Reports with the fields you chose to include.
Mass create, delete, reassign Accounts with intuitive software tools.
Zip Code Proximity Search ? instantly create a list of Accounts with addresses within a certain radius of any Zip Code. A first in hosted Cloud CRM System, by Salesboom.com.
Pre-integrated with the Salesboom suite of hosted Software-as-a-Service offerings, including Marketing, Sales Force Automation, Customer Service & Support, ERP, collaboration.
Easily share Accounts with your entire team, yet have full security over who has access to what Account info, and when with Salesboom User Profiles and Role Hierarchy settings.
In Salesboom Cloud CRM software solution, Accounts can be associated with Events, Tasks, Calls, Notes, Documents, E-mails, Accounts, Opportunities, Campaigns, and much more.
Microsoft Outlook edition included with every Salesboom Edition. Manage all Contacts, events tasks or calendar associated with your Accounts using Microsoft Outlook and have changes reflected in your Salesboom hosted Cloud CRM System account in real time.
Track and store notes for all accounts and relevant contacts, opportunities and all details of each organization.
Analyze the buying patterns of clients and set up loyalty programs.
Track communication history of an account and analyze opportunities for up-selling and cross-selling in future.
Remember, CRM with Account management software provides quick access to your clients contact information, which includes vital data such as: name, address, email and mobile number. Salesboom provides more sophisticated additional features such as: to-do lists, calendars, and email integration with other mailing services.
Once you truly gain full visibility into your company's sales pipeline, you'll never want to go back to the dark again. We guarantee it. Take a Free Cloud CRM Software 30-day Trial today, or contact us directly for more information: 1.855.229.2043 (1.855.229.2043) or via e-mail at sales@salesboom.com.
| | |
| --- | --- |
| | Signup for The Salesboom CRM Newsletter: |
| | |
Cloud Sales Software Products