CRM Audit Trail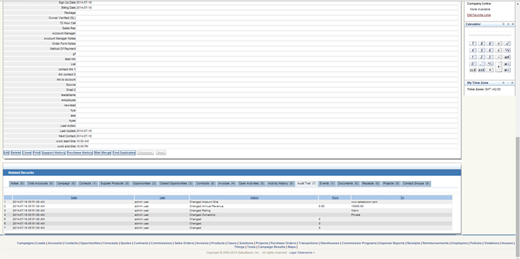 CRM Audit Trail allows you to see when any of your users make a change in the CRM. When was a field changed, to what value, what was the previous information and more, all help you understand and backtrack through your CRM. This helps you troubleshoot and not loose valuable time and information when a discrepancy occurs. The ability to keep a knowledge base of every single transaction from your internal users makes you more agile and prepared for when needed. See how the world's best Value-Based CRM gives you the power to audit and trace issues and moments within your CRM.
Business organizations in many situations would need to keep track of all the changes in the records of their CRM system. Online CRM Audit Trail software is a great tool that Salesboom.com Online CRM Software is well equipped with. Whenever a Cloud Based CRM user makes changes to records such as leads, accounts, contacts or other standard or custom objects, the changes are tracked in a form that explains what field was changed from what value to what value at what time and date.

With our CRM Audit Trail, this data is fully tracked and extensive research tools and reports can give you an indication of how clean your company data is. It also could point out malicious activity by unhappy employees intending to change critical data such as customer credit cards to false information that would make the billing department job a nightmare. Test drive our Cloud CRM product now and see for yourself how our CRM Audit Trail tool can help your company.
Remember, Corporations often need to be in compliance with diverse regulations to guarantee availability of client's interaction history, access reports and security issues tracking reports. Corporations may want to keep track variation in Salesboom CRM Software data for security, reporting and analytical purpose.
Salesboom CRM supports an auditing capability where field's changes within a corporation can be recorded over time for use in reporting and analysis purposes. CRM Auditing Software is supported on all custom and most customizable entities and attributes.
The Audit trail feature in Salesboom CRM Software package is managed from an easy and simple interface and also, enables you to view your Audit system History on an individual record as well as a Summary of all Audit records History that controlled with separate security settings. There is no ability to delete an individual audit record. However, as audit logs compile, employees with access may view and delete old logs to keep the database sprightly and smaller.
Once you truly gain full visibility into your company's business processes, you'll never want to go back to the dark again. We guarantee it. Take a Free CRM Software 30-day Trial today, or contact us directly for more information: 1.855.229.2043 (1.855.229.2043) or via e-mail at sales@salesboom.com.
| | |
| --- | --- |
| | Signup for The Salesboom CRM Newsletter: |
| | |
Cloud Sales Software Products