Home

Products

Data Sheet : Enterprise Edition: QuickBooks for Cloud CRM Software
CRM for QuickBooks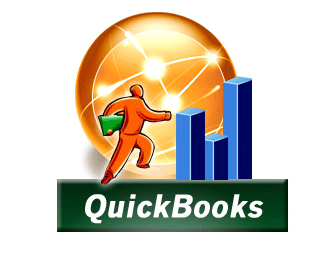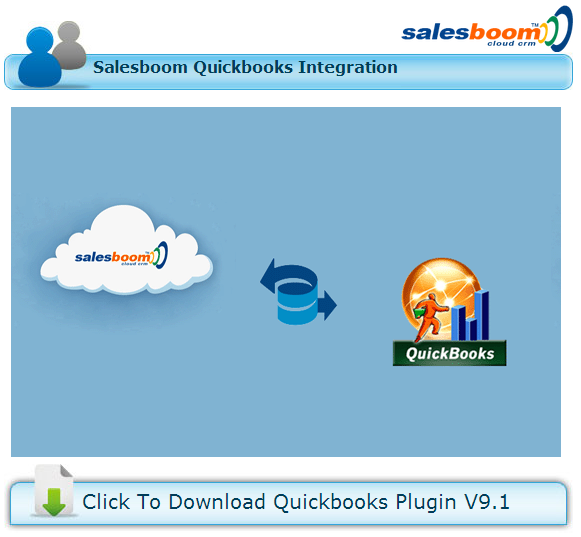 CRM Quickbooks Integration provides a seamless transition from your Quickbooks online to Salesboom. Now you can have a single, real-time view of your accounting, marketing, sales departments and so much more. This gives you the ability to have Quote to Cash technology for your sales team, thus speeding up your sales funnel resulting in increased sales, Sign up for a free trial and see what Quickbooks and Salesboom powered together can do for your business.
Salesboom Cloud Based CRM for QuickBooks automatically synchronizing Salesboom CRM with QuickBooks accounting software to ensure one view of customer, product and order information for the entire organization. Our QuickBooks CRM Integration guarantees that your company's Sales, Accounting and management teams will always see correct and timely information, while eliminating time delays and errors typical with duplicate data entry or incomplete information. Within hours Salesboom will remotely install and configure the QuickBooks integration to provide your organization bi-directional synchronization between your Salesboom Cloud CRM and your accounting data in QuickBooks. The entire process is seamless and runs in the background, so there is no extra software to learn with our Customizable CRM solutions for QuickBooks.
Whether you are working in QuickBooks or with Opportunities, Accounts or products within the Salesboom Cloud CRM, data is synchronized bi-directional between key objects in Salesboom and QuickBooks:
Accounts to QuickBooks Customers
Won Opportunities to Sales Orders/Invoices/Sales Receipts
Products with Inventory Items
Invoice details back to Opportunities
Additionally the integration can be extended to integrate other standard or custom objects and fields in Our Online CRM and QuickBooks OR to other internal systems for an additional fee.

The Cloud CRM System software solutions are popular business tools because they organize all your clients data that recorded from various channels and present it in one central repository. Pairing your CRM System Software with an Accounting software such as QuickBooks can further maximize your small business efficiency and customer and business insight even more. Salesboom CRM System Software is built for small to mid-market businesses where everyone works together to build solid customer.
With Our Quickbooks CRM integration add on, your company's accounting, sales and marketing departments are always on the same page. 2-way real time synchronization of your CRM and Quickbooks customer, vendor, quotes and proposals, and invoices data is seamless. Salesboom Quickbooks CRM integration reduces data entry and eliminates accounting mistakes that lead to disasterous situations.
Salesboom CRM for QuickBooks automatically synchronizing Salesboom CRM with QuickBooks accounting software to ensure one view of customer, product and order information for the entire organization.
Our CRM for QuickBooks helps you to keep up complete and up-to-date clients information across all departments like: Sales, Marketing, Accounting and support etc.. in your organization. With QuickBooks CRM Integration enables you to synchronize your clients and suppliers data between Salesboom CRM and QuickBooks software. additionally, you'll import or export the product, quotes, invoices and sales purchase orders data from our Online CRM Software system to QuickBooks and contrariwise.
Our Cloud CRM System Software Solution offers two way synchronization of data with the QuickBooks Accounting system software. Now you can easily integrate clients records between the two systems thereby reducing data entry and ensuring data accuracy. Clients contact and address information is automatically updated regardless of which system it is entered into it.
Now you can integrate your Cloud CRM software system solution with one of the industry's best small business accounting systems which is quickbooks. Ensure the accuracy of clients data between the Accounting division and the CRM software and prevent duplicate data entry and potential errors in billing and shipping.


Quickbooks CRM Integration with salesboom can permit you share your money information together with your sales team. Not solely can you be ready to read clients data, you'll additionally track expenses, produce regular reports and gain insights therefore you'll have higher sales forecast. A Cloud CRM Software Solution is one of the most valuable systems a small to mid-market business should implement because it manages your entire business processes. Quickbooks CRM Integration from salesboom will enable you share your financial data with your sales team. Not only will you be able to view all your clients information, but connecting with Quickbooks, you can also keep track-of expenses, create clients reports, and gain insights so you can better forecast perfect decision for your business. By transferring customer data, you can maintain complete and up-to-date customer information in your organization. Additionally, it will help you reduce the duplicate data entry and maintain consistency. With the QuickBooks Integration, you can import, export or synchronize data either manually or automatically.

Salesboom CRM for QuickBooks solution is the answer to providing your organization with full visibility to your QuickBooks data they need to be more productive. With a click of a button, Salesboom Cloud CRM and QuickBooks integrate so that both systems are automatically updated with the latest data from Clients, vendors and supplier, products, orders, invoices, payments and even purchase orders. We make it easy to keep everyone on the same page and working with the right data!
Business Benefits
One view of customer, organization wide – Sales, Accounting and Management share the most up to date information on customers, inventory and orders.
Reduce errors and save time – No more manual data entry which is error prone and results in incomplete data.
Easy Inventory Management – Never again worry about the inability to fulfill and order due to lack of inventory. Reduce inventory management problems by having accurate and up to date information
Customized and Rapid Implementation – Salesboom does all the heavy lifting to deliver an integration that is customized to your organization, within hours. The software runs in the background, so there is no extra software for you to learn.
Web Service Architecture – Software component is installed on your QuickBooks server and accesses Salesboom Web Services API so that multiple Salesboom users can send updates to the QuickBooks server, without the need for a separate install on each user PC. There is no disruption to your business as all integrations are tested by Salesboom over the Web, while you continue to use Salesboom Cloud CRM and QuickBooks as usual.
CRM and integration supported by Salesboom – No more dealing with middleware or juggling vendors to resolve issues. Salesboom Cloud CRM is the only vendor you will deal with in the process of integrating QuickBooks.
Affordable Pricing – Pay as you go model with low annual fee reduces large upfront software acquisition costs.
Requirements
QuickBooks pro, online Essentials, Online Plus, QuickBooks Premiere, Premiere Plus, QuickBooks Enterprise Solutions, US Edition.
Salesboom Unlimited Edition, Enterprise Edition or Professional Edition
English language implementation
Pricing
Available in the free trial for 30 Day.

$300.00 per company per year.

Remember
It doesn't matter if data is updated or added in QuickBooks or Salesboom Cloud CRM Software our powerful bi-directional integration enables users to work within the software they need to get the job done in a perfect way. Our Cloud CRM Software solution sends detailed data to QuickBooks, ensuring that all the data is complete so audit and analysis is so easy. Salesboom Cloud CRM System solution for QuickBooks will improve the accuracy of financial data and eliminate duplicate entries to save time and prevent errors. Quotes are transferred to sales orders which are converted to invoices all with only a single click.
With Salesboom CRM quickbooks integration record sales in QuickBooks online at the press of a button. All discounts, taxes, and shipping details could be a breeze. Our CRM for quickbooks records sales by matching up the correct products in QuickBooks online. It conjointly creates missing product mechanically therefore you've got product level details for your business. Salesboom CRM quickbooks integration matches existing customers and creates new ones in QuickBooks online on the fly therefore you'll instantly see your most useful and repeat customers.
About Salesboom
SalesboomTM is a world leader in delivery of on-demand Customer Relationship Management (CRM) and Enterprise Resource Planning (ERP) solutions.
Salesboom has over 28,000 subscribers from around the globe, ranging from SMB to Fortune 500 customers, in over 154 countries around the world. Salesboom.com solutions drive innovation, enable business realignment, and enriches customer relations across the enterprise.
Sign up for a Free CRM Software 30-day Trial
Phone: 1.855.229.2043 (1.855.229.2043)
E-mail: info@salesboom.com
Once you truly gain full visibility into your company's business processes, you'll never want to go back to the dark again. We guarantee it. Take a Free CRM Software 30-day Trial today, or contact us directly for more information: 1.855.229.2043 (1.855.229.2043) or via e-mail at sales@salesboom.com.
| | |
| --- | --- |
| | Signup for The Salesboom CRM Newsletter: |
| | |
Cloud Sales Software Products