CRM Rental Property Management Software With QuickBooks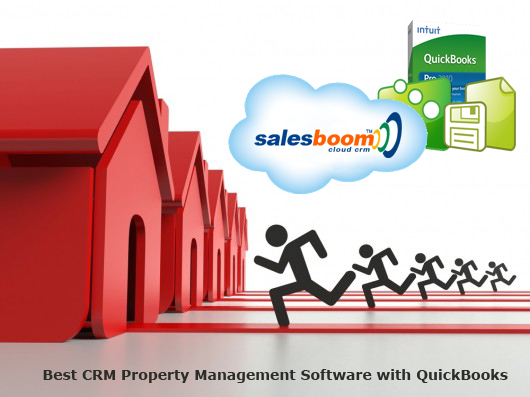 CRM Rental Property Management Software With QuickBooks is the ultimate tool for your real estate business. Streamline your accounting cycle and manage your cash flow accurately and in real-time. Our Web-Based CRM gives you the power to check your accounting, finances, and everything else anytime and anywhere. The power of Quickbooks and Salesboom together will dramatically increase your organization, in ternal understanding, and ultimately powers your sales.
A property management business is a profitable business, but running a property management business is not an easy task to do. Not only you must permanently monitor your properties to ensure they are safe and well kept, but you'll also have to manage your accounting aspect of your business. Mostly tenants paying rent on a monthly basis, so you can expect to have a large amount of payments coming in periodically.

Salesboom web based CRM solutions provides you the perfect opportunity to open a property management business.
The good news is that QuickBooks Software makes accounting for property management businesses easy and fast.
QuickBooks is the best accounting software for small and mid-sized businesses. Accountants love and prefer it because QuickBooks is a powerful accounting Software that can be used for any business, from a construction company, pharmaceutical company, attorney's office, and property management business and much more.
Salesboom CRM for Property management solution enables streamlining your property accounting cycle so you can manage your cash flow, calculate the value of your property accurately, and get the reports you need. With Salesboom CRM solutions, you will save time, effort and money in your real estate business.
Salesboom CRM and property management software helps property managers streamline daily tasks; it's designed and built for real estate companies. Our CRM Property Management is a user-friendly platform, Web-based solution that's available on the cloud, and includes numerous helpful online features.
Since 2003, Salesboom.com has serving real estate firms needing payroll, and financial reporting capabilities. Salesboom Online CRM software offers a scalable, customizable solution that optimizes real estate investments and operations.
Our property management Solution delivers comprehensive accounting, lease tracking and communication tools via an easy and simple dashboards. Salesboom cloud Based CRM delivers a fully integrated package to help manage everything starting from the front desk to maintenance.
However, if you prefer QuickBooks accounting software for some reasons of your accounting needs, we offer the tools you need. We provide your property business with a QuickBooks plug-in that connect your CRM Software with your QuickBooks company account.
Simply, the solution for property management and real estate problems is to keep your reports at your fingertips, accurately with Salesboom CRM with Online QuickBooks featuring all in one software solution.
Using the power of Online CRM QuickBooks, enter all management details and the data will be automatically updated without any data redundancy.
Using our comprehensive CRM platform, you can manage all of your properties, leases, tenant documents and control company finances.
If you are already using QuickBooks and you want to take your property management business one step further, Salesboom CRM can also seamlessly sync your existing QuickBooks files with a powerful Cloud CRM Software for improved efficiency.
Our Integrated CRM tools with QuickBooks enable you to sync the income and expense transactions for certain portfolios to a designated QuickBooks company file. This fluid data gives you better oversight on your investment properties and makes it possible to utilize our customization tools for customized financial reporting and email alerts to expedite accounts payable and receivables.
Our on-demand CRM software solution enables you to share financial data Online with owners, staff and other stakeholders who may be in different locations.
The integration feature between CRM and QuickBooks eliminates the need for duplicate data entry. As a result, you will save your valuable time for other important aspects of your business such as maintaining long lasting relationships with tenants and growing your business.
Once you truly gain full visibility into your company's business processes, you'll never want to go back to the dark again. We guarantee it. Take a Free CRM Software 30-day Trial today, or contact us directly for more information: 1.855.229.2043 (1.855.229.2043) or via e-mail at sales@salesboom.com.
| | |
| --- | --- |
| | Signup for The Salesboom CRM Newsletter: |
| | |
Cloud Sales Software Products