Marketing CRM Software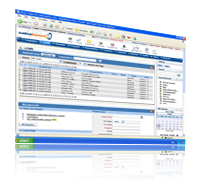 Marketing CRM Software is the way companies will do business for many years to come. Salesboom's online cloud-based Marketing CRM Software empowers your marketing department with the tools and information needed to carry out the best marketing and advertising campaigns possible. CRM Marketing provides access to an in-depth company wide database in real time, presenting marketers with lead information beginning from their first interaction.

Salesboom is the market leader among Online CRM providers. Our users can access this powerful system anywhere with Internet access. We help a broad range of business sectors in all sizes.
Salesboom cloud based marketing CRM software tools help you accurately target your customers and deliver personalized and relevant offers that your customers will find valuable. Manage your marketing automated operations to speed-up your marketing pipeline. With Salesboom.com Marketing Automation engage your clients and provide great experiences that build long lasting customer loyalty. Today's small businesses find marketing difficult to develop, track and expensive to manage. So, marketing processes are basically neglected, as a result, diminutive revenues and minimizing in profitability ratios. Salesboom Online CRM software changes all of that. Thanks to our Marketing Automation system feature, you can now market your business with highly precision, simple and customizable marketing solution.
Our Cloud based CRM Software will analyze the key areas of your business and provide an analytical report that will help identify gaps in your sales and marketing pipelines.
When you use Customer Relationship Management/Marketing CRM Software you're empowered with streamlined functions like:
Easy to use Online Email Marketing: Our cloud-based Marketing CRM Software takes the headaches out of Online Email Marketing campaigns no matter the size. Whether sending a small targeted email or a mass email you will enjoy the look and feel of this platform. With the click of a button have your latest promotion or press release in the inbox of thousands while still maintaining a personal feel by organizing your leads into multiple campaigns. The Marketing CRM Software includes examples of marketing strategies commonly used by succesful businesses. Salesboom's CRM Marketing Social plugin helps your business reach new audinces.
Advanced Lead Capture and Management: Earning and maintaining leads can be a difficult process for any company, this is why we've designed our CRM Marketing Software to accurately track every detail ever retained from a lead and present this information company wide, however you can set security controls so only those who are intended can access this information. A lead can be captured online from your company's website, blog, email, social profile (Twitter, Facebook, LinkedIn, etc) and automatically routed so the appropriate people are notified, making for a swift response. Once this lead is captured your custom workflow processes make sure no lead is ever forgotten.
In Depth Campaign Marketing Analytics and Reporting: To best guide your business into a bright future our on demand cloud-based CRM Marketing Analysis Software keeps all information at your fingertips with easy browsing, no more flipping through endless filing cabinets. Since all data is updated in real time you can follow the success of your CRM marketing and advertising campaign as leads flow through your sales pipeline for easy comparison to the success to past campaigns. CRM Marketing solutions can also create a clear visual dashboard with easy to understand graphics, great for presentations and clear reference.
Marketing Automation Software: Salesboom's Marketing CRM Software can be automated esily with workflow rules that will help streamline marketing processes and save your marketing department valuable time. Can the Marketing CRM Software map your marketing a new product strategy? Does the knowledge of the CRM company staf reflect in their marketing software? Can you load standard industry-best-practices and workflow rules as marketing processes samples?
Marketing and Communications: Just like every other department, marketing associates and stakeholders at any company must communicate effectivly in order to get things done as quick and swift as possible. It is amazing to still see small and big companies use marketing silos whioe for a small affordabke price they can use a sophisticated and highly customizable web based marketing crm software that has collaborative tools. Can your marketing associates, sales people and support team effictively communicate with your customers by using the marketing software? Can they serve your customers, make them happy and turn them into company and marketing advocates?
B2B and B2C Marketing Configurations: Not every Marketing CRM Software can differinciates between b2b and b2c business processes. If your company has both processes, you must ask the CRM company to demonstrate how their marketing tools handle both. Each company could have a different marketing approach, and it is critical for the marketing software to accomodate that. Can your marketing action plans be configured and mapped in your Marketing CRM Software solution?
What is Marketing CRM Software? To understand the meaning of a true Marketing CRM Software, one must understand the three types of marketing properties. A marketing property in the age of digital marketing is a marketing collateral. There are three types of digital marketing properties are Owned, earned and Paid. Your website, blog, corporate social media profiles are owned media. News coverage about your company, articles, Fan social media pages, etc are earned media. Your Google Ads, Facebook, Twitter and LinkedIn ads are paid media. A True web based Marketing CRM Softwarfe is able to manage traditional and digital marketing and advertising campaigns.
What are the Benefits of Marketing CRM Software? To realize the benefits of a Marketing CRM Software with marketing analysis in-depth features you should imagine this situation: A great company has a marketing department that manages multiple advertising campaigns, acts as a thought leader and produces daily content published on multiple owned media properties. Participates in guest-bloggining, produces monthly press releases, attends few trade shows as a vendor 5 times every year, has a big inbound marketing, SEO and content marketing strategies. Now imagine this great company not being able to monitor, manage and report on every marketing activity. How could they assess the Return On Investment ROI of each campaign? Now imagine a Marketing CRM software system that allows you to mnage across all departments each marketing & advertising and content marketing initiative? That Marketing CRM Software is called Salesboom.
Marketing 2.0: Today's marketing has changed dramatically. With the advent of the Internet, the marketing strategies have changed. Marketing 2.0 in a nutshel is the ability to manage all your digital marketing activities in one central place, your web based Marketing CRM Software solution.
Once you truly gain full visibility into your company's business processes, you'll never want to go back to the dark again. We guarantee it. Take a Free CRM Software 30-day Trial today, or contact us directly for more information: 1.855.229.2043 (1.855.229.2043) or via e-mail at sales@salesboom.com.
| | |
| --- | --- |
| | Signup for The Salesboom CRM Newsletter: |
| | |
Cloud Sales Software Products