CRM Marketing Software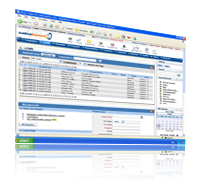 CRM Marketing is the way companies will do business for many years to come. Salesboom's online CRM Marketing Software empowers your marketing department with the tools and information needed to carry out the best marketing campaign possible. CRM Marketing provides access to an in-depth company wide database in real time, presenting marketers with lead information beginning from their first interaction.

Salesboom is the market leader among Online CRM providers. Our users can access this powerful system anywhere with Internet access. We help a broad range of business sectors in all sizes.
Salesboom cloud based CRM marketing software help you accurately target your customers and deliver personalized and relevant offers that your customers will find valuable. Manage your marketing operations to speed-up your marketing pipeline. With Salesboom.com engage your clients and provide great experiences that build long lasting customer loyalty. Today's small businesses find marketing difficult to develop, track and expensive to manage. So, marketing processes are basically neglected, as a result, diminutive revenues and minimizing in profitability ratios. Salesboom Online CRM software changes all of that. Thanks to our Marketing Automation system feature, you can now market your business with highly precision, simple and customizable marketing solution.
Our Cloud based CRM Software will analyze the key areas of your business and provide an analytical report that will help identify gaps in your sales and marketing pipelines.
When you use Customer Relationship Management/CRM Marketing Software you're empowered with streamlined functions like:
Easy to use Online Email Marketing: Our CRM Marketing Software takes the headaches out of Online Email Marketing campaigns no matter the size. Whether sending a small targeted email or a mass email you will enjoy the look and feel of this platform. With the click of a button have your latest promotion or press release in the inbox of thousands while still maintaining a personal feel by organizing your leads into multiple campaigns.
Advanced Lead Capture and Management: Earning and maintaining leads can be a difficult process for any company, this is why we've designed our CRM Marketing Software to accurately track every detail ever retained from a lead and present this information company wide, however you can set security controls so only those who are intended can access this information. A lead can be captured online and automatically routed so the appropriate people are notified, making for a swift response. Once this lead is captured your custom workflow processes make sure no lead is ever forgotten.
In Depth Campaign Analytics and Reporting: To best guide your business into a bright future our on demand CRM Marketing Software keeps all information at your fingertips with easy browsing, no more flipping through endless filing cabinets. Since all data is updated in real time you can follow the success of your CRM marketing campaign as leads flow through your sales pipeline for easy comparison to the success to past campaigns. CRM Marketing solutions can also create a clear visual dashboard with easy to understand graphics, great for presentations and clear reference.
Once you truly gain full visibility into your company's business processes, you'll never want to go back to the dark again. We guarantee it. Take a Free CRM Software 30-day Trial today, or contact us directly for more information: 1.855.229.2043 (1.855.229.2043) or via e-mail at sales@salesboom.com.
| | |
| --- | --- |
| | Signup for The Salesboom CRM Newsletter: |
| | |
Cloud Sales Software Products