Become a Salesboom Partner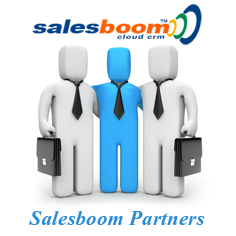 Salesboom.com has accepted partnerships from dozens of industry leaders around the globe to help extend the reach of its services to business customers everywhere. With fully localized customizable solutions available for specific geographic regions or industry verticals, partnering with salesboom.com is a surefire way to increase revenues and customer satisfaction.

As a salesboom.com partner you enjoy the complete involvement and hands-on approach that the salesboom team brings to the table, so that both companies can be mutually successful. With complete flexibility in almost every aspect of the partnership program, why go anywhere else?


There are three basic categories of salesboom.com partners:
All three types of partners enjoy multiple levels of partnership, from Bronze Partner to Gold Partner, depending on the volume of sales and/or leads generated. Contact info@salesboom.com or call 1.855.229.2043 (toll free in North America) today for more information!
Once you truly gain full visibility into your company's business processes, you'll never want to go back to the dark again. We guarantee it. Take a Free CRM Software 30-day Trial today, or contact us directly for more information: 1.855.229.2043 (1.855.229.2043) or via e-mail at sales@salesboom.com.
| | |
| --- | --- |
| | Signup for The Salesboom CRM Newsletter: |
| | |
Cloud Sales Software Products