Salesboom Cloud CRM Event Management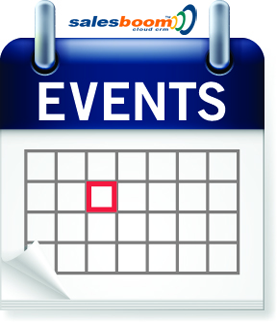 Salesboom Cloud CRM Event Management keeps you on time and on track for all your appointments and meetings. Just log on to Salesboom from any connected device and instantly see any appointments, meetings, the time, who you're meeting, how the meeting came to be, and any other pertinent information with just one click. Stay informed and organized with the best Value-Based CRM on the market.
Never miss out on a business meeting, sales presentation, conference call or sales call again – log into Salesboom from any computer that is connected to the internet and you can get your meeting time, the address, a map to that address, the person whom with you will be meeting, and the company information - all with one click. These are just a few Cloud CRM software benefits to Sales Rep's and other company employee's, with convenient reoccurring event management, automating company gatherings is a breeze. Book a boardroom, invite employees to a product launch or an employee group trip, set up a meeting with staff and have them notified automatically, all from Salesboom. Salesboom.com is the only on demand hosted Cloud CRM Software company to give you reoccurring event management.

Try our free Cloud CRM software application 30-day trial now.
Although Salesboom's Cloud CRM software application contains full web based calendaring capabilities, it has the ability to do so much more. Salesboom.com is the Business Tools Organization! You can now do what you once only dreamt of with other calendars in contact management software such as Microsoft Outlook for example. The calendar in MS Outlook comes integrated with the Microsoft contact manager software and includes your email and task management. Salesboom's online calendar is not only integrated with email and task management, but also with cases and solutions, opportunities, files and documents, projects, etc. So that when preparing for the event, you have real time access to all the information you need to feel confident walking into that critical meeting or talking that hard earned phone call or making that appointment at an off site location. Also, for those die hard Microsoft fans, Salesboom also integrates its on demand hosted Cloud CRM software application with Microsoft Outlook so Salesboom subscribers can seamlessly migrate there data between Outlook and Salesboom's hosted service. As well, Salesboom users can synchronize emails from Outlook to Salesboom and create Salesboom cases and events from within Microsoft Outlook itself, furthering the ability of small business to leverage the benefits of Outlook and the Salesboom hosted Cloud CRM service. The salesboom outlook crm edition is included free with all of Salesboom's hosted Cloud CRM software-as-a-service applications.
Use Salesboom's Cloud CRM On Demand to empower all your small, medium or large business employees by giving them real time access to their critical data, 24/7/365 with no software to download and install. All you need to access your critical records when you need them is a computer and a web browser. (or any device that runs a web browser such as FireFox, Microsoft Internet Explorer or Netscape Navigator, etc.)
The Following are just a few of the business benefits of Salesboom's online calendaring and on line task and event management:
Meet those tight deadlines and access your critical real time business information
Issue a trouble ticket online at the customer's site for speedy resolution of the situation
Schedule follow up meetings required to close the sale
Schedule reoccurring maintenance business tasks and events so that they are never forgotten
Set up and invite all decision makers in the company for a conference call or meeting
Schedule the shipping and receiving dates of products and ensure all accompanying information is attached
Create To Do lists and track progress of task completion
Send out reminders and alerts of upcoming events
Schedule product demonstrations
Schedule contract deadlines
Of course, when you sign up for salesboom, you don't just get world class task & event management software and calendaring. Salesboom is a full suite of on demand hosted crm, web-based sfa and erp software is pre-integrated and available online. This means salesboom subscribers can sign up for a free Cloud CRM software 30 day trial and with a click of a button try out the salesboom event management, task management, collaboration and project management software, free for 30 days, without even having to talk to a sales representative.
Once you truly gain full visibility into your company's business processes, you'll never want to go back to the dark again. We guarantee it. Take a Free CRM Software 30-day Trial today, or contact us directly for more information: 1.855.229.2043 (1.855.229.2043) or via e-mail at sales@salesboom.com.
| | |
| --- | --- |
| | Signup for The Salesboom CRM Newsletter: |
| | |
Cloud Sales Software Products