CRM Auto Response Emails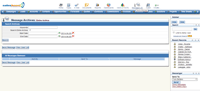 Salesboom Online CRM gives you the power to create specific Auto Response Emails, ensuring no inquiring customer is ignored. Create multiple specific auto response emails for any situation that will give your customer the attention they deserve. We give you the ability to give more than just a generic message, which will deter customers from that sense of annoyance common with these sorts of messages.
The Auto response emails feature allows you to send automated pre-written emails to your clients. When you have similar cases or frequent questions from your clients you can create an auto response email with a specific content that answer that frequent question. When the condition is satisfied, that reply email on this issue will sent. You can create many auto response emails as you like depend on your business needs. Personalized responses to customer inquiries go out immediately and automatically with Salesboom's auto-response e-mail. You can tailor responses based on the nature of the inquiry or specific information supplied by the customer.


BENEFITS
Decrease administrative overhead
Improve service levels
Provide immediate responses to standard inquiries
HIGHLIGHTS
Responce Rules - Create rules to trigger e-mail responses based on the nature of the inquiry or customer-supplied information.


HTML Templates - Include HTML-rich content, including graphics and company branding, in your e-mail responses.


Document Attachments - Attach documents to your e-mail responses to, for example, send appropriate product instructions or training manuals to customers who request those materials.
The auto response feature in your CRM email system can easily annoy your clients if it gives them an answer they already know or they could easily guessed the answer without your help. Here are a few statements you must avoid putting it in your Email template:
- I have received your email.
Because It's a common statement in this type of emails. But, in fact that's wrong because if you received the message you will actually reply on it. But the computer has received it and will forward it to you once you have the time to reply.
- Please expect a response within 24-48 hours.
This statement not always annoying in emails. For the customer support people it's really helpful for them. It's great to set duration for the response but if you can respond in such a specific time frame you probably don't need an auto-respond email feature in the first place. If you're overcrowded in work, you can't set a specific duration for response you can't afford. If you need to set a time frame for response, be smart  be less specific about the time frame of responding.
- Thank you for your message.
As a matter of fact, you're not thankful at all but actually you are annoyed, your inbox is full of clients messages and you likely will not read them all. Saying Thanks it may seem nice but it's more likely to annoy your clients because they know your are not thankful.
Remember, The CRM Auto-response Email enables you to process incoming emails and execute a proper actions.
Learn more about Cloud CRM .
Once you truly gain full visibility into your company's business processes, you'll never want to go back to the dark again. We guarantee it. Take a Free Cloud CRM Software 30-day Trial today, or contact us directly for more information: 1.855.229.2043 (1.855.229.2043) or via e-mail at sales@salesboom.com.
| | |
| --- | --- |
| | Signup for The Salesboom CRM Newsletter: |
| | |
Cloud Sales Software Products