CRM Email Supervision, Retention and Management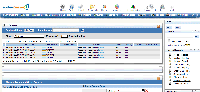 Companies utilizing the new enhanced Salesboom Cloud Based CRM Email Supervision, Retention and Management software features for small, medium or large businesses that provides a long list of industry leading and revenue driving features.

Just when you thought we couldn't bring you anything more, we make Salesboom even better! Now announcing the second phase of enhancements to the Salesboom.com small business web based email software, Salesboom is way ahead of the pack in allowing you to streamline your email communications, solving all e-communication problems forever. Salesboom is web-based CRM software that your sales reps and marketing team will want to use. It is the most user friendly and simple to use and packed with powerful features that save you time and effort, increase collaboration and ultimately helps you sell more and close more deals faster in short time!
Salesboom Cloud Based CRM Email Supervision, Retention and Management software revenue driving features:
Fully Functional Cloud CRM email Client - Salesboom's email client is fully functional and replaces traditional small, medium and large business email software completely. Send, receive, reply, forward, bcc, cc - It's all there and ready for you to take advantage of! Fill in the blanks much like you would when setting up a software based email client - which can cost hundreds of dollars per license. Fill in your Name, email address, and incoming mail server, and marvel at how functional the Salesboom email client really is! You can even send attachments! Throw that software in the garbage - its time to move to Salesboom On demand email Integration!

Full Cloud CRM software (Customer Relationship Management) and web-based SFA (Sales Force Automation) software integration - The Salesboom small, medium or large business Cloud CRM email solution is more than just an email program. It integrates email with our industry leading web based CRM and SFA features, such as Web based Contact Management , Lead Management, Case Management and more. Enjoy a full history of all email communications with all customers and prospects, both past and present. Never lose another email or have valuable customer interactions lost in employee churn - it's always there for you in Salesboom.

Make Your Own Custom Signature - Salesboom allows users to create and edit their own customized signatures to append to all outgoing emails. Keep a universal front when interacting and communicating with customers by keeping your signatures up to date, making sure your contact information is in front of the prospect every time they look at any correspondence from you. Revolutionize the way your Sales, Service and Support teams look at e-communication.

Salesboom On Demand hosted CRM's Custom email Templates - Why waste time typing up the same email over and over? Use Salesboom's Customizable email Templates to keep frequently sent emails, such as Sales Introductions or Sales Quotes close to your Sales, Service and Support staff. Simply point, click and send! It's that easy. Boost productivity and increase customer satisfaction by taking advantage of Salesboom's customizable email template system!

Full Management email Supervision and Retention Capabilities - Enjoy a top down view over all your employees email correspondence through Salesboom's web based email client. Keep your employees on-task, and easily make corrections and conduct performance reviews on their e-communications with prospects and customers.
Remember, we offer an entire suite of email services that you can choose from. Each has a unique feature to assist you with client Retention and Prospect Conversion.
Salesboom gives you many variant options for sending and receiving email. However you choose to send and receive your emails our system will capture and store all email correspondence that you generate with your customers and prospects making it very easy and simple to view all of your emailing list right in front of you.
You can send Individual Emails INSIDE Salesboom CRM Software directly from the contact record. This assures that the email instantly gets captured and stored within the email inbox folder with that contact record. The emails directly will appear like it was sent from your own business email address.

Sure, it all sounds good on paper, but does it really work? Of course it does! But don't take our word for it - sign up for the Free 30 Day Cloud CRM Trial today and test drive the whole Salesboom Web-Based online web based Cloud CRM software (Customer Relationship Management) / web-based SFA (Sales Force Automation) service today, including the integrated Cloud CRM email management feature! You can also talk to one of the Salesboom Sales Agents for more information - by telephone toll free at 1.855.229.2043 (1.855.229.2043) or via email at sales@salesboom.com.
| | |
| --- | --- |
| | Signup for The Salesboom CRM Newsletter: |
| | |
Cloud Sales Software Products