Cloud CRM Software
Looking for Cloud CRM Software? Before you start searching online for the best cloud CRM software system out there, please take a moment to learn more about Salesboom.com Cloud-based CRM solutions. Salesboom.com is the largest, privetly held and the second oldest cloud CRM vendor in the world. We Invented our Cloud-based CRM solutions even before the term "Cloud CRM" was coined. Take a free 30-day trial or request a live demo of our Cloud CRM software by one of our highly experienced CRM consultants for free.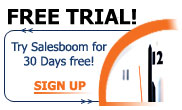 ---
In order to choose the best CRM solution for your business you must ignore the buzz and focus on what matters; selecting the best CRM with confidence.
In this white paper titled "Choosing a CRM Solution with Confidence" we will concentrate on what you need to look for in a CRM solution and it's vendor before you decide what CRM solution to choose.