Introduction to CRM Software: CRM In Brief: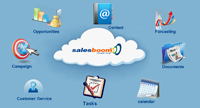 CRM stands for Customer Relationship Management. Others prefere to call it Client Relationship Management. Mainly, the CRM Software allows businesses to manage business relationships, the data and the information associated with them. Successful CRM software solution are built around the people and relationships as in any business, you need to establish strong relationships with your customers. You as a business owner connect with the people who need your products or services.

CRM is a strategy and technology that is used to build stronger relationships between organizations and their clients. An organization will store information that is related to their clients, and employees will analyze it to use it in forecasting and making reports. Some of the strategies of CRM software are planning for targeted marketing campaigns towards specific clients. The strategies used will be relying on the information that is coming from the CRM system. CRM software solution is commonly used by all kind of corporations that focusing on maintaining a strong relationship with their customers.
There are many reasons why CRM software has become the most important software in the last 10 years. The competition has become highly competitive in the global market, and it has become easier for clients to switch companies if they are not happy with the service they receive or want the product with the low price. One of the primary goals of CRM solution is to retain clients and protect them from competitor's temptations. When CRM is used effectively, an organization will be able to build a relationship with their clients that can last a lifetime. It is so important to realize that CRM system solution is more than just software.
This CRM introduction aims to explaining what the CRM is in a nutshell and making it easier to realize the tremendous benefits of purchasing a Customer Relationship Management software that will help drive more customers thus more profit towards you and makes your life easier.
Today growing businesses manage customer connections and information in a variety of ways. Some use old fashioned note cards and Rolodex. Others store information on their mobile phone while on the go or while having no means of accessing a Personal Computer or a laptop. Others use Excel spreadsheets or Google documents and that is the most common case. While that may help in the short term when you have a small team and don't plan on scaling up your business, if you want to scale up for fast growth, it may be time to consider a CRM system to help you collect your precious business data in one place, make it accessible via the cloud, and free up your time to focus on delighting customers rather than letting valuable insights and information fall through the cracks while you are on the go. A Cloud CRM System would be perfect for satisfying all of your business needs while being able to access the important data you need from anywhere with an internet connection available.
There are many things the ideal Cloud Based CRM Client Relationship Management systems should have; it should enable the organization to find the factors that interest their clients the most. Any corporation must realize that it is impossible for them to succeed if they do not cater to their client's desires and needs. Online CRM software solution is a powerful system that will enable them to do this.
With CRM strategy, the customer is always right, and they are the core factor in the success of the company. It is important for any corporation to use reports that are dependent on their client's data. This will greatly tip the odds of success in their favor.
The Customer support cycle is an internal part of CRM system, when a client sent complaints; they must be handled efficiently and in a timely manner. The corporation should also seek to make sure those mistakes are not repeated. When sales are complete, they should be tracked so that the corporation can analyze them from various aspects and produce reports. The analytical aspect of CRM system deals with analyzing client's information and using if for business intelligence purposes.

Once thought of as a type of software, CRM has evolved into a customer-centric philosophy that must infiltrate an entire organization. There are three important key elements to a successful CRM initiative: people, process, and technology. The people throughout a company, from the CEO to each and every customer service representative need to buy in to and support CRM. A company's business processes must be reengineered to strengthen its CRM initiative, often from the view of "How can this process better serve the customer?" Firms must select the right technology to drive these improved processes, provide the best data to the employees, and be easy enough to operate that users won't hesitate to use. If one of these three foundations is not solid and sound, the entire CRM structure will crumble.
A brief introduction to the Customer or Client Relationship Management is that it's a strategy used to learn more about customers' needs and behaviors in order to develop stronger business relationships with them. After all, good customer relationships are the heart of any business success. There are many technological components to CRM, but thinking about CRM in primarily technological terms is a mistake. The more useful way to think about CRM is as a process that will help bring together lots of pieces of information about customers, sales, marketing effectiveness, responsiveness and market trends together to complete your business puzzle in order to bring the harmony into your work force.
If client relationships are the heart of business success, then the CRM is the valve the pumps a company's life blood. As such, Customer Relationship Management is best suited to help businesses use people, processes, and technology to gain insight into the behavior and value of customers. This insight allows for improved customer service, increased call center efficiency, added cross-sell and upsell opportunities, improved close rates, streamlined sales and marketing processes, improved customer profiling and targeting, reduced costs, and increased share of customer and overall profitability. Understanding Client Relationship Management CRM principles and practices is critical to any business success. Salesboom Client Relationship Management applications are geared towards helping companies streamline processes and increase revenues whil keeping clients happy.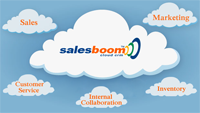 Every business organization depends on customers for sustenance, the question is how to create and maintain customer satisfaction. Every business communicates with their clients in many different ways, especially in our technology rich and information based society. How we treat all of this information is where CRM plays a key role.
CRM Software acts as a central repository of information on your clients and potential clients. Customer relationship management software hones in on the relationship. As in many publications of late on one to one marketing, cyclical selling and counselor selling the mainstay is the relationship and how we recognize it.

Salesboom.com Online CRM tools use technology to organize information you receive about your customers and record it in an orderly manner. Online, hosted, web based CRM software helps you understand your customer needs and helps you recognize the processes in place to achieve your business goals. Customer loyalty has a significant impact on both the top and bottom line. To maintain customer loyalty is to be informed on where you have been and where you are going. The first step in your CRM strategy is to take a snapshot of where you are currently. From this base you can design streamlined, customized and fully automated business processes in Salesboom Cloud CRM.

Just think of Cloud Based CRM as a tool that when you open a customer's account, you can see all the consolidated data about that account: contact information, account history, sales, cases, invoices, quotes, files, emails, faxes, letters, notes and any other pertinent information. All of this information is readily available online, anywhere the Internet is available.

Salesboom.com harnesses the power of the Internet and places its Cloud CRM solutions at your disposal. If you are doing business tasks anywhere, whether it is a sales person or the CEO that needs a crucial piece of correspondence, phone number, quarterly forecasts or a simple brochure, access is available through Salesboom.com. With the advent of these Cloud CRM tools your business becomes more customer-centric. A customer-centric strategy is created with the intention of increasing both your customer satisfaction, and customer loyalty.

Questions:

What are your customer satisfaction levels?
What is your customer attrition rate?
What are your customer's needs?
Do you focus new product development around customer feedback?
Do Sales, Customer Service, and Technical Support work together to provide outstanding customer service?
Do you build and modify work processes around servicing the customer better?
Do you currently consolidate all customer related data into one repository?
Do you integrate key front office, back office, and web office systems to interact with each other?
All these needs are regular requirements of any thriving and successful business. The solution that helps companies address such needs with the click of a button is what we refer to as Cloud CRM.
Once you truly gain full visibility into your company's business processes, you'll never want to go back to the dark again. We guarantee it. Take a Free CRM Software 30-day Trial today, or contact us directly for more information: 1.855.229.2043 (1.855.229.2043) or via e-mail at sales@salesboom.com.
| | |
| --- | --- |
| | Signup for The Salesboom CRM Newsletter: |
| | |
Cloud Sales Software Products