CRM Corporate Policy Management
HR Policy Tracking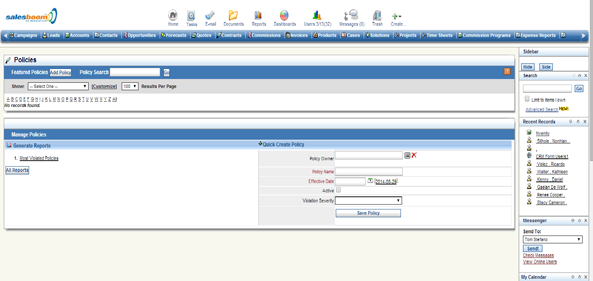 CRM Corporate policy management does not have to be a difficult paperwork filled process. With Salesboom.com Cloud CRM System Software solutions filing corporate policy violations is extremely straightforward yet thorough. From the day of implementation your Cloud CRM System Software keeps track of all information and stores it in a single database ensuring the most up to date information is at your finger tips. A central database means all employee violations and information relating to those incidents are kept and easily viewed by simply typing the employee's name.

For most organizations, documenting and filing corporate policy violations by employees is a matter of paper trail and appended notes to employee files in some cabinet somewhere in the company premises. And even for the minority of companies utilizing a corporate policy management solution, it is often an isolated on-premise hard to manage product.
Don't let violation of company policy slip through the cracks, with the single database, no matter what department deals with the violation, you can allow a manager from each, or who ever you want, to have access to employee files without sending any information. With a click simply set their security level to allow for viewing of employee corporate policy violations making it easy to notice repeat offenders.
Salesboom.com continued commitment to our wall-to-wall vision of an on demand enterprise software solution have led us to introduce our complimentary Corporate Policy Solution to our Online integrated ERP & Cloud CRM products.
Your Human Resources HR department can now create and mange different corporate policies as part of Salesboom.com on demand solutions. Keep track of all employees' violations of corporate policies. What is the most abused corporate policy of the year? What employee violates the corporate policies the most? What is the severity of the violations?
Salesboom Cloud CRM System Software solutions allows an in depth real time view of troubled areas within your company. These areas can be rather costly to an organization if left for an entire year, waiting for annual reports. Information in your Cloud CRM Software solutions provides you with the results you need when you need them.
Salesboom.com on demand products has a wider footprint than just hosted Cloud CRM Software System. A company can't make a decision on partial information so Salesboom Cloud CRM Software solutions provide your company with a complete picture which enables you to taking the right decision. Data does not expire and pages don't get misplaced with on demand hosted software solutions, so all past infractions are readily available.
For now on document your company's policies, recommend proper course of actions in case of violations, as well as manage policy violations entirely across your organization. This ensures that the course of action carried out will be even throughout your organization providing your company with an equal solution for all.
Cloud CRM Hr Policy Tracking Pros:
Manage & Share HR Policies.
Track Policy Violations.
Identify most abused Policies.
Track course of action.
Identify Troublemakers.
Salesboom Corporate policy management solution streamlines the process of authoring and approving roles in organizations. Our Corporate Policy management solution uses rules-based workflows and alerts to notify managers about unread policies. Our Corporate Policy Tracking provides services to ensure that business operations are efficiently using full resources and effectively meeting client requirements. Employees incorporate general management principles of responsibility and transparency into daily guidelines, recommends strategic policy, and provides systems analysis and resource planning.
Corporate Policies are only as strong as their underlying procedures, which should be as accurate as possible. Such accuracy also goes directly to potential corporate liability. Because corporate policies can establish liability, mismanagement of corporate policy and procedures can introduce liability to the organization given the duty of care that policy or procedure may establish. Corporate Policy Management protects your organization by helping you set the standards of expected behavior for your staff. You can manage the full lifecycle of policies – starting from creating a policy through approval, publication and then regular reviews – all in one centralized place.
As a matter of fact, this ability to manage and not just store your corporate policies is critical because the worst thing you can do for your organization is to put a bunch of Word documents in software tool or on a shared drive and call yourself protected. Unlike typical Cloud-based CRM corporate policy applications, with Salesboom.com Corporate Policy Management solution your business is fully protected. Plus, you can use interactive training courses to bring your corporate policies to life so your employees can understand how to apply the policies in their daily lives.
Policy Management comes standard with our online editions: Professional and Enterprise.
Once you truly gain full visibility into your company's HR processes, you'll never want to go back to the dark again. We guarantee it. Take a Free Cloud CRM Software 30-day Trial today, or contact us directly for more information: 1.855.229.2043 (1.855.229.2043) or via e-mail at sales@salesboom.com.
CRM Newsletter

Signup for The Salesboom Cloud CRM Newsletter:
Cloud Sales Software Products