CRM Customer Self Service Portal Software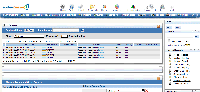 Our CRM Customer Self Service Portal Software is one of the latest on-demand business solutions. Give your customer access to view their service tickets and any and all updates on their issues. Put the customer and their needs first by getting rid of automated messages, lengthy holding times though a queues, and misinformation. A Customer Self Service Portal leaves your clients satisfied and understanding in real-time where their issues and its resolution stands. The ultimate tool in customer service, built into our Web-Based CRM.
CRM Customer Self Service Portal Software by Salesboom is the latest and greatest in the world of on demand business solutions. Now you can take advantage of Salesboom's cutting edge Cloud CRM Software integration solution's and have your customer's reap direct benefits as well! Cut through contact center hold queues, email backlogs and more - give your customer's direct access to the trouble tickets and updates on their status, allowing your salesforce and service and support representatives more flexibility to work towards resolving the issue, instead of answering repeated phone calls from frustrated customers.

CRM Customer Self-Service Portal Software empowers your business with robust functionality and CRM tools allowing your customer's access to their own service and support requests. A Salesboom administrator can create special self-serve accounts for any customer in the Salesboom system, which then allows those customers to login to a special self-service portal, giving them access to create cases that are instantly available to support personnel in real time; or reflect on previous cases already submitted to the system.
Empower your clients with Salesboom CRM Customer self service portal software, we will help them get answers to their questions before they could even submit a request. Clients can track the progress of their requests and have full information like if any agent assigned resolution and comments on their request. This will motivate clients to self serve themselves, it also helps maximize efficiency and reduce the cost of your support center.
CRM Customer Portal service is a powerful & easy tool that helps your clients finds answers to their issues immediately. There is no-waiting and is available 24-7-365 and since it is an automated service it reduces the load on your support center agents.
CRM Customer self service portal software does not only mean your support team has to answer queries or resolve customer's problems. As an organization, you need to enable your clients to gather solutions for queries and get expert advice on problems, without having to involve your support agents.
Set permissions for accessing your CRM Customer self-service portal in order to choose to open your self-service portal to all or to only those who has login privilege. This assures that you're not spammed with fake requests and also, securing your data from public access.
With Salesboom self service portal, your support team can solve other major problems while your clients handle the easy simple issues on their own. We have boosted customer service to a new level where a part from support team helping clients, we let clients help other clients.
Our CRM self service portal provides you a complete Knowledge-base and frequent asked questions (FAQ) system that does not require clients to login. You can store all your solved support center issues that your clients can refer to, By having FAQ system and informative essays, give your support team a breather and make customer support quicker. Salesboom CRM Customer self service portal lets you do all of this from simple interface.
Web Self-Service Portal benefits:
Real Time Access; Anytime, Anywhere

Using Salesboom's Customer Self-Service Portal gives your customer's real time access; from anywhere an internet connection is available. Now their schedules don't have to coincide with the hours of operation for your contact center - they can log in at their leisure and view the status of their trouble tickets directly from home without so much as picking up the phone.

More Efficient Service and Support Reps

Using Salesboom makes your Service and Support representatives more efficient, allowing them more control over each individual case that comes into the system. They have full access to your customer's entire history which they can then reference on the trouble ticket to demonstrate to the customer which problems are recurring and which are unique. They can also link solutions from other customer's problems back to the original trouble ticket, saving time and money, and letting your support reps work on what they do best - solve the problems.

Submit Cases Online

Your customer's don't even need to contact you in order to submit a case into your Salesboom system. They can simply log in through the Self-Service Portal and submit a case which is instantly available to the correct representative based on routing controls you specify. This frees up your phone lines for customers who don't have internet access, and allows those who do much more automated and efficient service than sitting in a hold queue at your contact center.

More Efficiency = Customer Satisfaction

Customers don't like to wait around. They want their issues solved immediately, and expect your service to minimize their wait periods. You can accomplish this with Salesboom's Self-Service Portal, giving your Service and Support departments more efficiency, lowering turn-around times on support issues and giving your customer's more time to accomplish other tasks in their schedule instead of waiting on hold. Better efficiency equals customer satisfaction, customer loyalty, and customer retention. Happier customers equal more profitable customers. You do the math.
Take advantage of Salesboom's CRM Customer Self Service Portal Software today, and give your customers the service they deserve. You've got nothing to lose, and everything to gain. You can try Salesboom free of charge for 30-Days, no strings attached.
Get out of the dark ages and join in the on demand revolution. Empower your business with Salesboom On Demand hosted CRM & ERP software solutions today.
| | |
| --- | --- |
| | Signup for The Salesboom CRM Newsletter: |
| | |
Cloud Sales Software Products