Resellers & Consulting Partners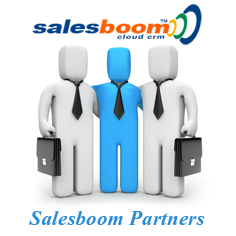 Salesboom.com is an industry leading Hosted Cloud CRM system Software provider, with a quickly growing market base and brand name recognition that extends well beyond many of our competitors.
Salesboom offers one of the most comprehensive Channel Partner opportunities in the marketplace, with great revenue potential and extremely competitive rates to qualified resellers and consulting partners around the world.

We have an extremely close bond with all our partners around the globe, and strive to provide them with the open-communication and efficient support that they need.
Be part of a successful few who carry Salesboom's image of effective service and quality enterprise software products forward as we continue along in our Cloud CRM System Revolution.
Apply Now!
Please be sure that you have read the Reseller & Consulting Partner Levels & Requirements document prior to signing up.
We evaluate partners based on the following criteria:
Type of value added to Salesboom.com products and services. Sales & Marketing resources. Ability to expand Salesboom.com into new territories. Healthy Corporate Culture.
Contact info@salesboom.com or call 1.855.229.2043 (toll free in North America) today for more information.
Once you truly gain full visibility into your company's business processes, you'll never want to go back to the dark again. We guarantee it. Take a Free CRM Software 30-day Trial today, or contact us directly for more information: 1.855.229.2043 (1.855.229.2043) or via e-mail at sales@salesboom.com.
| | |
| --- | --- |
| | Signup for The Salesboom CRM Newsletter: |
| | |
Cloud Sales Software Products