Microsoft Outlook & Outlook 365 CRM Plugin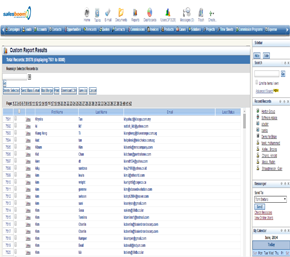 Why Microsoft Outlook CRM Plugin?
1- Easy Online CRM Software for Outlook: Easier for your employees to use one system instead of two separate ones.
2- Requires no extra training and very user friendly.
3- Save your company's time with the Outlook2CRM synchronization feature that spares your staff from multiple data entry.
4- It saves and links the whole user communication history to your customers and accounts in your Cloud CRM while you are using Microsoft Outlook CRM Plugin. Most Microsoft Outlook CRM reviews will consider this feature to be the backbone of the best Outlook-as-crm-addon.
5- The MS Outlook and Outlook 365 CRM Integration plugin gives a whole new meaning to Salesforce Automation and Customer Service and support .
6- Customer services will go smoother; once the Microsoft Outlook CRM Plugin is installed, all customer service communications will be logged into Salesboom Cloud CRM customer services database.
7- Billing becomes simpler by connecting your Microsoft Outlook to our Quickbooks-friendly Cloud CRM. Turn your emails into qoutes and invoices instantly.
8- Become Mobile Instantly. With Our MS Outlook CRM Connector, your CRM becomes your central location for all your data from different sources such as Google contacts accessed fully from mobile devices anywhere.

Microsoft Outlook As CRM? Outlook 365 CRM Integration:
CRM with Outlook Email Integration plugin allows continued use of Microsoft Outlook to manage your emails and contacts from anywhere.


Log incoming/outgoing Outlook messages in accounts, contacts, leads, cases or opportunities in Salesboom.


Increase productivity with the best MS Outlook Cloud CRM Integration plug-in in the market.
The 5 Best Things about Salesboom's Microsoft Outlook CRM integration plugin:
A lot easier on the pocket than a full CRM system yet so powerful to give your Business the push it needs.


Salesboom offers the best Outlook CRM integration plugin in the market.


No drastic changes to whatever your employees are used to. Fear no employee resistance as they will continue using the same Outlook interface they are used to.


Synchronize contacts, calendar and tasks between Microsoft Outlook and Salesboom via Outlook CRM integration, add Outlook inbound and outbound emails as cases in Salesboom via Outlooks CRM integration, associate Outlook inbound and outbound emails as Leads or Contacts via Outlook CRM integration, modify email message and file attachments to the Lead or Contact in Salesboom without modifying the original message in your Microsoft Outlook accounts and finally; resolute conflicts while synchronizing contacts, calendar and tasks so that there will be no mismatches of customer important data.


Salesboom stays and supports its Outlook CRM integration like no one else on the market, enjoy the best customer service from our professional consultants and experience the greatest technical support like no other.


Microsoft Outlook is widely used for managing e-mail, contacts, and appointments, but it doesn't offer full CRM 'customer relationship management' capabilities that boost a business's sales.
Salesboom's Outlook CRM integration enhances Outlook's value for business users by contributing CRM and financial functions to Outlook's bag of tricks. With Salesboom Outlook CRM integration, automatic synchronization eliminates the daily boring data entry chore. And even more, it's administered 100% in the cloud, so your administrator can support and help you from across the room or the other half of the world.
Our product comes on the top in comparison with other products in the market. If you want to see the product live then make sure you request a demo. Looking for a CRM system or a plugin that works with Outlook? No more, this Outlook CRM integration plugin is exactly what you look for: handy, affordable and efficient.
Your business excellence via Outlook CRM is only minutes away. Add our CRM product to your arsenal and start seeing the boom in your business.
Microsoft Outlook CRM Solutions
Salesboom is the best Outlook CRM Integration software. It allows you to keep existing email management software by using its Outlook CRM integration tool allowing your CRM software to work with Outlook anywhere it is installed, your laptop, home PC or computer in the office.
Salesboom's Outlook CRM Software plugin is fully supported with:

Microsoft Outlook 365
Microsoft Outlook 2000 and 2002
Microsoft Outlook 2003
Microsoft Outlook 2007
Microsoft Outlook 2010 Home and Business, Standard, Professional, and Professional Plus.
Microsoft Outlook 2013 Home & Business, Standard, Professional, and Professional Plus.
Salesboom's Microsoft Outlook with Cloud CRM integration tool is the most functional on the market, integrating not only email management with Web based Contact and Lead Management features, but also fully integrating the CRM Outlook software into Salesboom's Case & Solution Solution Knowledge Management Database software.
Salesboom Outlook CRM integration software gives users the flexibility to continue using existing email management software like Microsoft Outlook as an alternative to the fully functional Salesboom web mail system. Test drive our CRM for Outlook 365 now. Our CRM is integrated with Microsoft Office 365. While other CRM competitors such as Salesforce.com, Netsuite, Sage, Sugarcrm, Zoho and others are just starting to integrate their CRM software with Microsoft Office 365, we have been offering our CRM software integrated fully with Office 365 (including Outlook 365) since 365 was launched.
Salesboom.com is the only vendor to leave nothing behind when you transfer your important information using Microsoft Outlook Cloud CRM Integration Software:

Synch Contacts
Synch Calendar
Synch Events
Synch Notes
Synch Emails
Synch Cases
Synch Accounts
Synch Opportunities
Other CRM vendors claim to have Microsoft CRM integration and synch your Microsoft outlook folder management, however, with Salesboom.com you benefit from not only a CRM calendar synchronized with Outlook but our ability to include all notes attached to contacts within the Microsoft Outlook software.
Microsoft Outlook and Web Access to Cloud CRM Software:
With our sales CRM in Outlook Salesboom makes it easy for your business to simultaneously use Microsoft Outlook and web access all emails, contacts, accounts, opportunities, cases and solutions. You also have the option to customize MS Outlook web access email folders that are managed within the Salesboom CRM system. Salesboom's Microsoft Outlook Cloud CRM integration software provides a more functional CRM.
Full Integration with the Salesboom hosted Contact Management system:
With Salesboom's free Microsoft Outlook CRM Plugin, users have full visibility into the history of all sent and received emails, making it easy to track email messages, while the CRM Software automatically links the full email history to each Contact or Lead; saving Sales, Service and Support teams time and money. With a full 360°
Microsoft Outlook Full Integration with Salesboom Case & Solution Knowledge Management Database system:
Your Customer Service standards will rise because Support Representatives can easily create and log cases into the Salesboom customer service database from the Microsoft Outlook CRM interface. By assigning all values directly from Microsoft Outlook, Salesboom CRM software allows automatic creation of cases from received emails and assigns them to the correct support representatives with a simple point and click operation.


Remember, The Microsoft Outlook CRM Plugin integrates all your Outlook contacts, calendar, tasks and emails with Salesboom Cloud CRM. You don't have to change your workflow processes. Basically, everything you do in Outlook software is recorded and organized within your CRM software, so you can easily manage and share important data easily. And your clients profiles and account data always stays up-to-date and accurate. The Salesboom Outlook CRM Plugin is a powerful plugin for synchronizing the contacts, tasks and events between Salesboom CRM and Microsoft Outlook. Also, you can copy your clients emails from Microsoft Outlook to our Cloud CRM and create cases and solutions depend on clients email messages.
Benefits of the integration between Salesboom Cloud CRM and Microsoft outlook:
Synchronize clients contacts, calendar and tasks between Microsoft Outlook and salesboom Cloud CRM and vice-versa.
Add Outlook clients emails as Cases and solutions to Salesboom Cloud CRM contacts.
Modify email body and file attachments to specific Lead or Contact in Salesboom CRM. without modifying the original email body in Microsoft Outlook.
Resolve conflicts while synchronizing contacts, calendar and tasks with Salesboom. Cloud CRM so that there will not be any mistakes of the clients data.

Click to View the Outlook Edition Video Tutorial
Once you truly gain full visibility into your company's business processes, you'll never want to go back to the dark again. We guarantee it. Take a Free CRM Software 30-day Trial today, or contact us directly for more information: 1.855.229.2043 (1.855.229.2043) or via e-mail at sales@salesboom.com.
| | |
| --- | --- |
| | Signup for The Salesboom CRM Newsletter: |
| | |
Cloud Sales Software Products