Employee Management Software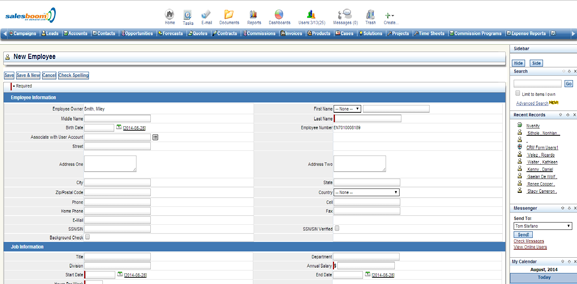 Salesboom Employee Management Software solution allows company executives, HR and payroll managers to utilize our system software for employee records and easily manage employee records across the company no matter how complex the business is, even with multiple subsidiaries and divisions. All employee records are stored on a web hosted on demand data base. Everyone reviews records from the same database and each can have their own data security restrictions ensuring all get the most up to date real time information and only those you want to get certain data do.

Salesboom Cloud based CRM software provides a powerful, integrated platform that facilitate and streamline HR and employee management processes. Our CRM Employee Management software solution incorporates employee records, expenses, annual leave / sickness management functionality and more. Salesboom automated CRM workflow processes ensure that relevant personnel are notified of any updates, while our role based security models ensure that your employee can only access the data they need to see.
Any corporation is only as good as its employees. Just as it's imperative to manage customer relationships effectively, the same applies to your employees. And many businesses struggle with effectively managing their employees. Our CRM for Employee Management software streamlines this process to make them easier and more efficient for the business to manage while increasing the employee satisfaction.
Our Employee management system is a powerful solution to enable you to configure and manage your unique employee management processes. Salesboom CRM software manages the most critical employee management processes including: number of employees' on-boarding, equipment and asset assignment, and others.
Employees are the core assets and the primary promoters of profitable business for any corporation. Hence, apart from managing customers for business purpose, it's a decisive responsibility of a corporation to manage and fulfill all needs of its own staff. It would be improper to say that CRM software is only used to manage customer and clients; most of the HR managers are using CRM technologies for managing company's human capital. This methodology is called as Employee Resource Management (ERM), it is a business process that fills gaps between a corporation and its staff to create a strong emotional and professional bonding among them.
HR Managers can manage employee contact information, EEOC information, skills, training, policy violations, vacation requests, expense reports, commissions, reviews and more. With all this information at your on hand it will be easy to best suit particular employee's based upon their skills to particular tasks, increasing and streamlining your workflow process.
Employees can view employment records, benefits, request commissions and vacations, submit expense reports, record policy violations, access the company knowledgebase, and more. This on demand web hosted solution makes it easier for those employee's who want to do extra work and get ahead obtain the resources they need.
As an integrated part of our on demand hosted Cloud CRM & ERP, Employee Management will streamline your HR business processes and increase employee productivity.
Once you truly gain full visibility into your company's HR processes , you'll never want to go back to the dark again. We guarantee it. Take a Free Cloud CRM Software 30-day Trial today, or contact us directly for more information: 1.855.229.2043 (1.855.229.2043) or via e-mail at sales@salesboom.com.
| | |
| --- | --- |
| | Signup for The Salesboom CRM Newsletter: |
| | |
Cloud Sales Software Products