Inventory Management Software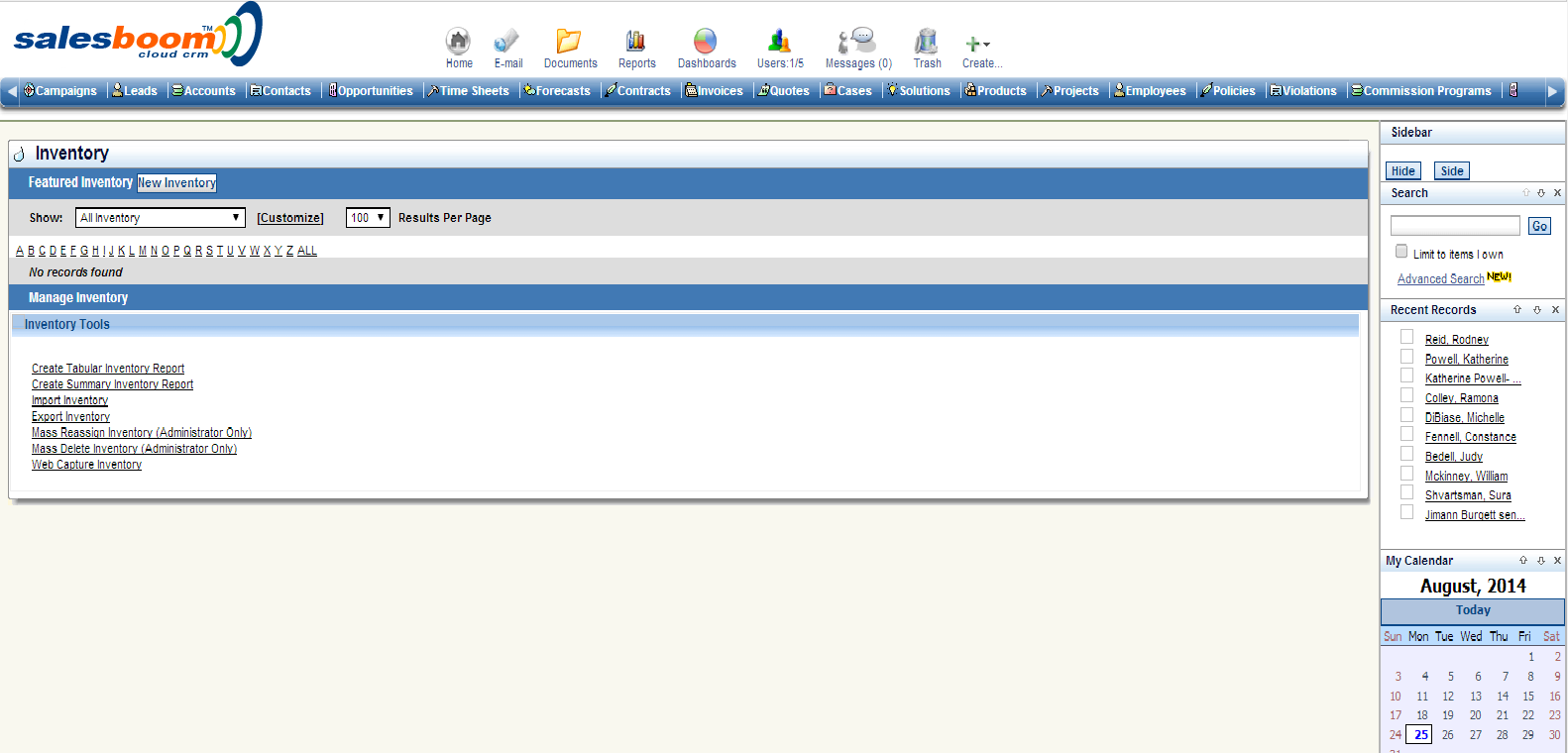 Home

Salesboom vs. Salesforce: Why you should switch

Inventory Management
Salesboom offers you a fully integrated extensive Inventory Management Software solution, allowing you to track inventory levels and assets online through both manual and automated inventory management systems. Our software for inventory management is integrated seamlessly into the CRM Software and SFA solution. This ERP Software suite features real time data stream inventory management that can make automatic updates as sales are made, as well as give you the ability to set new automated inventory level updates on a recurring basis. These features put Salesboom's inventory management solution way ahead of the pack.

From any PC with internet you can access our web based Inventory Management Software keeping your small, medium or large business ahead with a look into the future. Since your information is held on a single platform, a quick reference of all inventory levels over any period of time is possible because data is documented beginning the day you implement your CRM Software solutions.
Salesboom Inventory Management Software Solutions are ideal for:
• parts and inventory management
• inventory control management
• supply chain inventory management
• manufacturing inventory management
• small business inventory management
• warehouse inventory management
• book inventory management
• accounting inventory management
• direct mail inventory management
• hardware inventory management
• portfolio inventory management
• retail inventory management
• document inventory management
• printing inventory management
• service industry stock inventory management
• static inventory management
• store inventory management
• aquaculture inventory management
• eBay inventory listing management
• restaurant inventory management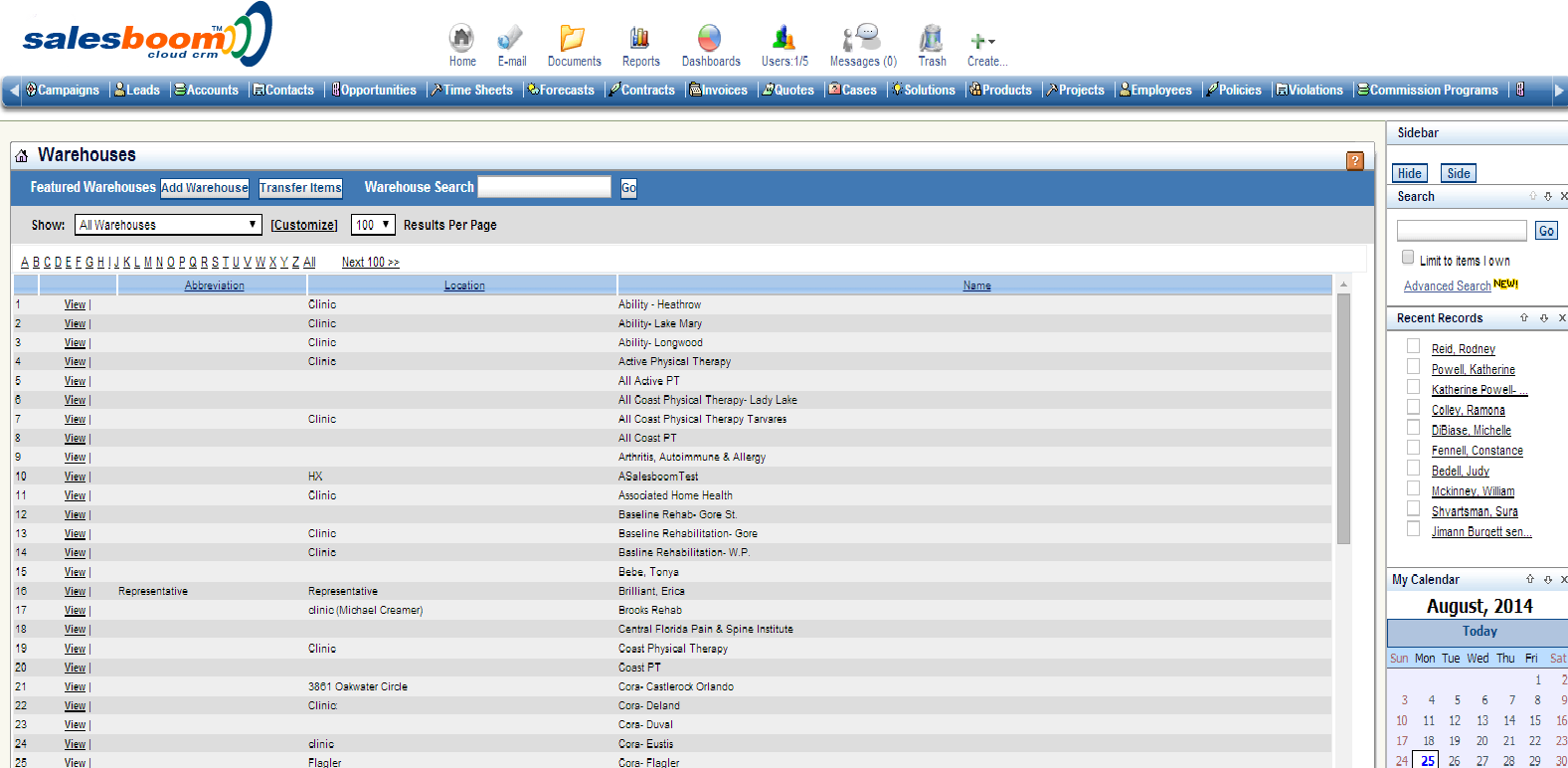 Comparison
In CRM comparison, Salesforce.com does not offer Inventory Management in any shape or form.
Continued CRM Comparison - More Reasons to Choose Salesboom over Salesforce.com
Other Related Documents
- Other CRM Provider Comparison vs. Salesboom
Read more about salesforce.com failures and how to migrate from Salesforce.com to Salesboom.com.
Looking for that small business Goldmine? Don't be a SAP; ACT! and Maximize your small business with Salesboom!
Salesboom offers many more variances from Salesforce.com than simply outlined above. We strive to make all our features more accessible, easier to use and better equipped to handle your small business processes than our competitors. So try the Salesboom software for yourself and notice all the subtle (and not-so-subtle) enhancements you'll find in Salesboom as compared to Salesforce.com, or any other on demand hosted CRM software provider. We know you won't regret it. Do a CRM package comparison for yourself and see the difference!
Remember, Salesboom offers you a fully integrated CRM Inventory Management Software solution, enabling you to keep track inventory levels and assets online through both manual and automated inventory management systems. Our online inventory system built to serve small, medium and large businesses and organizations. Obviously Inventory answers your biggest questions about your stock, how much products do you have? Where is it? What's the current cost of your inventory? How much did I sell last quarter? If you've been using paper and pen, inside your head, or just not tracking your inventory at all, obviously Our Inventory management system will get you most of what you need. Our Inventory management software is a web-based system for tracking your inventory levels and sales. It can also be used in the manufacture industry to create a work order or any other production related documents. Corporations use CRM inventory management software to avoid product overstock. It is a tool for organizing inventory data that before was stored in spreadsheets generally as a hard copy form. It is often similar to distribution software, as distributor you will have a distinct advantage over your competitors Our inventory management software offers a complete set of inventory management, manufacturing and purchasing capabilities that promotes supply chain management and delivers an end-to-end process. With Salesboom, you'll be able to better manage your inventory levels and better meet fulfillment expectations, improving customer service with real-time view of your inventory level.
Once you truly gain full visibility into your company's business processes, you'll never want to go back to the dark again. We guarantee it. Take a Free CRM Software 30-day Trial today, or contact us directly for more information: 1.855.229.2043 (1.855.229.2043) or via e-mail at sales@salesboom.com.
Cloud Sales Software Products