CRM > Collaboration >Instant Messaging
Instant Messaging:
Effective company-wide collaboration and
Enterprise Instant Messaging
are essential in order for small business to succeed these days. Running a successful small business is a team effort. Communication is key. But how is the small business communicating these days? Send an email or place a phone call. But what if the person is not at their desk when you call? Leave a voice mail message; right? Sure. But that's no guarantee that they will check their messages. So you send an email. But how often do they check their email? Is their email program set to check for messages every 5 minutes? 10 minutes? Maybe their email client isn't even open. Salesboom
On Demand hosted CRM - Instant messaging Service (IM)
eliminates such issues. You can even send a message to someone that isn't logged in. The message will be waiting for them the next time they access the Salesboom
On Demand hosted CRM / web-based SFA software solution
. They can't miss it! Salesboom's
Instant messaging service software (IM)
is as reliable as an expedited courier service, only faster. Stop wasting small business resources and time with traditional
instant messengers
such as
AOL Instant messaging Service Software
,
Yahoo Instant messaging Service Software
or
MSN Instant messaging Service Software
.
Try our free web based Enterprise Instant Messaging Software (IM) 30-day trial now.
Cross-Company Collaboration
Members of a team are usually situated relatively close together in the office, making communication as easy as sticking your head over a cubicle wall. However, it is often necessary to contact someone outside of the team. It could be a member from another team, an executive or someone in another department or even someone in another office, in another part of the country or another part of the world.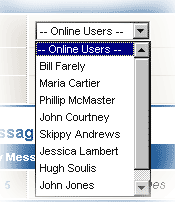 Let's think big. Phone and email contact has been the standard means of communication in such instances. However, email response time can be lengthy and we all know the headaches of calling someone over and over because they were away from their desk or on another line each time we call. Is there an answer to such problems? Definitely! An
Instant messaging software service (IM)
! Better still, an
instant messaging service
built into one of the most comprehensive
On demand hosted CRM software (Customer Relationship Management) and web-based SFA (Sales Force Automation) software tools
available today. Salesboom
On Demand hosted CRM software's Instant messaging (IM)
is the perfect small business
enterprise instant messaging
and communication tool. Send an instant message to anyone in your small business. And if they're away from their desk, the message will be there waiting for them when they return. Even if a user is completely logged out of the system, you can still depend on our
instant messaging service software
to send the message. They will receive it as soon as they log back in.
Searchable Archive
Where did I put that note? Did I delete that email? Did I purge my voice mail messages? It's nice to be able to have quick access to all of your small business related communications, because, let's face it, notes get lost, emails get deleted and phone messages, well, phone messages just aren't an effective way to keep track of information in the first place. Enter Salesboom
On Demand hosted CRM software's
fully integrated
Instant Messaging service software (IM)
. Leave it to the makers of the perfect
small business CRM software
to integrate the perfect small business communication tool. With Salesboom integrated
instant messaging service software
technology, every message ever sent and received is archived. Even better, the archive is searchable! Does a colleague have a web address or phone number that you don't want to lose? Get them to send it to you through Salesboom's
instant messaging service
. It won't be lost in the message archive and you'll have access to it from any computer with an Internet connection, in a truly on demand world. Perform a keyword search of the message archive whenever you need to retrieve it. Managers will be able to monitor collaborative efforts between team members through a keyword search of their team member's message archives. Stay up to date with what's going on without even asking!
Try our free Enterprise Instant Messaging Software (IM) 30-day trial now.
Forward Files
Sending file attachments is commonplace in today's small business world. In fact, it's absolutely necessary. For the most part, this is done by attaching files to an email message. But we have a better way. Salesboom's Instant Messaging service allows you to send files to other users in your small business. A quick, clean and simple way to deliver those contracts that are due in an hour to your co-worker! Your documents will never get lost en route again. You can always reflect on the message archive for an exact time stamp of when you sent them out.

Instant Access to Key Team Members
Sometimes, finding the right person to contact can be difficult. Perhaps you need information about a particular project, campaign, account -- anything. No problem. Use Salesboom's Search tool to find the record you're looking for. The person you need to contact regarding this particular record is the record owner. Well, that was easy. But wait! Salesboom has taken it one step further. Not only does Salesboom show you the person you need to contact, but you are also given the option to contact them immediately using Salesboom's Instant messaging service software (IM)! Just click the animated speech balloon icon located next to the owner's name to send them an instant message.

Third Party Messengers Install Too Much Stuff
Third party messengers such as MSN Instant messaging Service Software, Yahoo Instant messaging Service Software, or AOL Instant messaging Service Software, are primarily intended for messaging friends, not for small business communications. You end up with a bunch of extra utilities and software that you don't want, like tool bars and maybe even adware. Plus, your employees are likely to be distracted by their friends who are online as well. We also understand that data security is a big issue that corporations spend billions of dollars on every year. Are you willing to sacrifice your small business data security by allowing your employees to use external instant messaging software? It's public software and is used by thousands of users at any time of the day. Salesboom's instant messaging service software is confined to your small business. There is no possibility of outside influence. Plus there is no extra software to install. Above all, it's completely secure.
* Salesboom's Instant messaging Service Software also works on the Mac OS X platform.
Learn more about our Sales Contact Management for Mac
Once you truly gain full visibility into your company's business processes, you'll never want to go back to the dark again. We guarantee it. Take a Free CRM Software 30-day Trial today, or contact us directly for more information: 1.855.229.2043 (1.855.229.2043) or via e-mail at sales@salesboom.com.
CRM Newsletter:

Signup for The Salesboom CRM Newsletter: