Cloud CRM > Sales Force Automation > Account Management:
Account Management:
Cloud-based Account Management Software by Salesboom provides Sales, Support, or any Account executive access to real time Account data, 24/7/365. Salesboom Account Management solutions are part of the Salesboom hosted Cloud CRM System product that is hosted by Salesboom, and provided to our customers over the Internet. There is no software to download or infrastructure to purchase ? simply sign up for a Free Cloud CRM System solution 30-day trial and begin evaluating Salesboom's software today.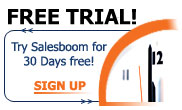 Salesboom Account Management software is tightly integrated with the Salesbom hosted Cloud CRM System Software and is an integral part of Sales Force Automation, Accounting and Customer Service & Support business processes automated by Salesboom for your business. With customizable Account capabilities, Salesboom gives your business or team the ability to easily specify what type of information you would like to track about your Accounts, and implement specific business processes that you would like Salesboom to automate for your business.

Business Benefits of Salesboom Account Management Solutions:
Salesboom On Demand Cloud CRM System Solution is completely web-based and hosted by Salesboom; available 24/7/365 over the Internet.
Customizable Account Fields so you can track what Account information is important to you.
Automate Account Management for your business with customizable Workflow, including Real-time Alerts, creation or edit notification, automated account routing, big Deal Alerts and more.
Customizable Views, Reports and Dashboards lets you learn anything about your company's Accounts.
Self-service Account creation from your Web Site with Salesboom Account Web Capture Tool.
Organize your Accounts as you see fit for easy, intuitive Account organization that works.
Mass E-mail tools for E-mail Marketing Campaigns, etc.
Import Accounts from other systems or lists with Salesboom Account Import. Export Accounts from Standard and Custom Reports with the fields you chose to include.
Mass create, delete, reassign Accounts with intuitive software tools.
Zip Code Proximity Search ? instantly create a list of Accounts with addresses within a certain radius of any Zip Code. A first in hosted Cloud CRM System, by Salesboom.com.
Pre-integrated with the Salesboom suite of hosted Software-as-a-Service offerings, including Marketing, Sales Force Automation, Customer Service & Support, ERP, collaboration.
Easily share Accounts with your entire team, yet have full security over who has access to what Account info, and when with Salesboom User Profiles and Role Hierarchy settings.
In Salesboom Cloud CRM software solution, Accounts can be associated with Events, Tasks, Calls, Notes, Documents, E-mails, Accounts, Opportunities, Campaigns, and much more.
Microsoft Outlook edition included with every Salesboom Edition. Manage all Contacts, events tasks or calendar associated with your Accounts using Microsoft Outlook and have changes reflected in your Salesboom hosted Cloud CRM System account in real time.
Once you truly gain full visibility into your company's sales pipeline, you'll never want to go back to the dark again. We guarantee it. Take a Free Cloud CRM Software 30-day Trial today, or contact us directly for more information: 1.855.229.2043 (1.855.229.2043) or via e-mail at sales@salesboom.com.
Cloud CRM Newsletter:

Signup for The Salesboom Cloud CRM Newsletter: