CRM Quote Management Software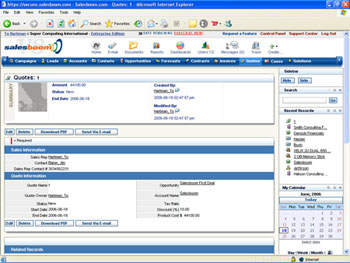 Salesboom Cloud Based CRM Quote Management is the perfect complement to the robust Sales Force Automation (SFA) features that form a strong core of Salesboom on demand Cloud CRM. With Our Sales Management Software it's easier than ever to create more effective sales proposals by generating multiple quotes per opportunity. Quotes are an agreements between a client and vendor to deliver specific requested products in a specified time-frame at a predefined price. Very simple to use, quotes can be generated on the fly by sales executives via an intuitive user interfaces. Simply choose the products from the Products database and within minutes generate a professional sales quote in PDF format and e-mail it out. If your business has dedicated Quote staff, our Cloud Based CRM has the ability to model your quote preparation and approval processes that fits your business? all with the ease of point-and-click web-based forms.

Having a CRM system without integrated quoting feature is like having a car without an engine. The main purpose of every marketing campaigns is to get the potential clients to the point where they want a quote from your company which means they need your products and services which will turn to be future revenues for your company, Salesboom offers a powerful CRM Quote Management Software for you.
We are the only online CRM software vendor to offer Quotation Management tightly integrated with hosted SFA and as a standard part of the Salesboom Enterprise Cloud CRM Edition. As well, our Quotation Management software is tightly integrated with Salesboom Contract and Billing Management, also included in Enterprise Edition. With customizable record fields, customized reporting and customizable workflow automation, Our Cloud CRM is the perfect choice for any business looking to streamline Quote-to-Sale processes.
Try our hosted Sales Force Automation software trial and test drive Salesboom Quotation Management software free, for 30 days. Following are some of the features:
Generate Quotes & Proposals On The Fly
Save time, money and resources by letting your sales representatives give real time quotes based on product information entered into your Cloud CRM by your controller or product manager. Alternatively, for dedicated Quote staff, model the Quote creation and approval processes for more efficient interaction between Sales and the Quote department. Attach any documents for a sales proposal and e-mail it along with the quote ? all within the Salesboom web-based interface.
Full Product Database Tightly Integrated with Quote Management
Salesboom is a complete web-based, hosted CRM & ERP provider. Included in Salesboom is a full Product Database, complete with Catalogs so that quotations can be made from real time product information controlled by your business. This is a perfect solution for product centric businesses, especially when product changes are frequent. As a product manager or controller creates or edits products and adds them to a product catalogue and assigns the price, etc..., then instantly that product is made available to our CRM Quote Management software so Sales executives and Quoting departments can create quotes based on the latest products. Never has it been easier for your company to create accurate quotes based on real time data.
Full Integration with Salesboom Billing Management Solution
Opportunities in Salesboom reference the proper Quote within the CRM and, when the opportunity is closed, invoices can be generated instantly and e-mailed to the customer from within our Cloud CRM. User Profiles ensure only designated employees can manage the billing process and customizable workflow automation ensures the appropriate parties are notified of all Billing actions.
Full Integration with Salesboom Opportunity and Contract Management Solutions
Salesboom Contract Management and automation gives business the ability to create contracts and associate them with quotes as well as contacts, accounts, opportunities, etc..., within the hosted Cloud CRM & ERP functionalities of Enterprise Edition. Quotes and opportunities can be associated with contracts such that while viewing a contract you can see the expired quote history and the accepted quote related to the opportunity from which a contract was executed - right from the contract screen. Never has it been easier to measure quote to sale metrics and get a 360 degree view of what it really takes your business to close a deal.
Customizability to Accommodate Your Business as it Grows and Changes
Salesboom's sales force automation quoting software and proposal management systems are fully customizable to grow with your business, and are fully web-based to empower your business with the tools to change your quotations process, on the fly, as you wish. With customizable record fields, customized reporting, customizable workflow automation, and customizable User Profiles, Salesboom Cloud CRM is the perfect choice for any business looking to streamline business process from Quotation to Sales.
Sell More, Manage Less
Our Sales Force Automation Quoting software is proven to help your sales team concentrate more on selling, and less on working with sales and quote documents. Save time, money and overhead while increasing the productivity of your Sales team by having all documentation in one central database. With the click of a mouse, attach any document with a quote to generate elaborate and detailed proposals for e-mail to your client.
Instantly E-mail Sales Quotes
Don't waste time trying to export your sales quote from the Salesboom Quoting Software and proposal management software system. Generate the quote and send it to your prospect with the click of a button in real time.
The Quotation Management Software (QMS) is aimed towards improving client's business efficiencies in creating and generating quotations, emailing quotations, maintaining billing and shipping information and providing enhanced QMS reporting features. Our quotation Management System provides:
An interactive and user friendly web interface to support quotation generation and management

Seamless integration with other applications for faster information sharing and processing

Search facility to search existing quotes based on opportunities, prospects, services or any other information provided into the quote

Capabilities to handle billing and shipping information within the application

Generation of multiple quotes for a customer from a single interface

Central repository of quotes

Ability to automatically include generated quotes as email attachments

Exporting quotes to various supported formats

Tracking quote-to-close ratios and raise revised quotes

Reporting feature capable of generating advanced reports such as projecting business based on quotations and tracking success / failure ratio of quotes within reasons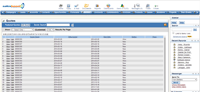 The Quotation Management System (QMS) presented by Salesboom offers full Customer Relationship Management (CRM) integration, when Quotation Management Software (QMS) is integrated with your Sales and marketing, you are not going to lose any lead or opportunity any more, measure how effective the overall marketing campaigns at providing quotes and categorize your customers to know where the leads and opportunity are generated from.
Why would you be interested to add Salesboom Quotation Management Software to your arsenal?
This question is often asked as most business owners believe that just adding any new system will magically improve their Sales, unfortunately things don't go this way in the real business world. You need to have a system that is easy to learn by your employees, a system that is really efficient, innovative software that provides what it really promises and a technical support team that is available whenever you need them. Salesboom.com stands firmly behind the products it makes and takes pride in being in the business of providing customers with nothing but satisfaction since 2003. We provide on demand Cloud CRM software and more products to increase your business efficiencies, save your time, make your employees life easier and help you to make more Sales. Minimize lost revenues, Maximize margins and boost customers' satisfaction, make the management of your quotes easier and achieve the boom in your sales via our Quotation Management System.
Your prospects don't want to wait on all the fine print. Throw out your copies of Microsoft Word and Excel® and stop spending hours re-creating sales quotes. Spend your time selling, and let Salesboom generate your quotes for you on demand, so your prospects don't wait a second longer than they need to.
Try Salesboom's Mass Email Marketing software now Free of Charge for 30-Days, with no strings attached. Take the reins in internet marketing today and blow your competition away by taking advantage of Salesboom's mass email marketing software. Empower your small business by joining the Small business Cloud CRM Revolution with Salesboom.com.
Salesboom.com - All the Small business Cloud CRM Tools You Need to Succeed; Without the Price Tag.
Once you truly gain full visibility into your company's business processes, you'll never want to go back to the dark again. We guarantee it. Take a Free Cloud CRM Software 30-day Trial today, or contact us directly for more information: 1.855.229.2043 (1.855.229.2043) or via e-mail at sales@salesboom.com.
| | |
| --- | --- |
| | Signup for The Salesboom CRM Newsletter: |
| | |
Cloud Sales Software Products